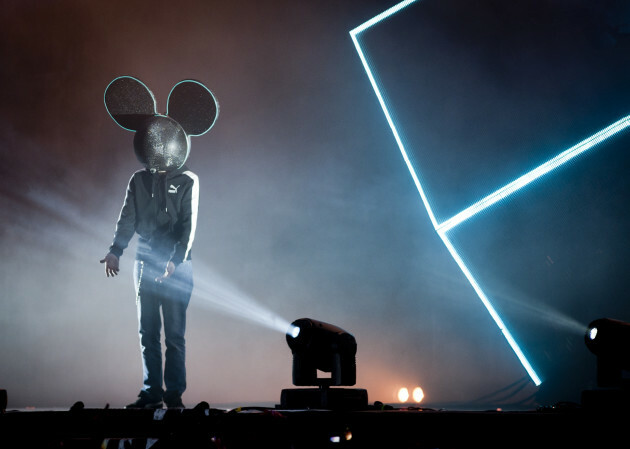 EMPICS Entertainment EMPICS Entertainment
DEADMAU5 IS THE stage name of Canadian producer and DJ Joel Zimmerman.
Like the rest us, he's pretty irritated by the process of buying tickets to concerts online. The 37-year-old musician received a complaint from a fan on Twitter, who wrote:
Gotta love ticket touts! Completely unable to buy tickets to see @deadmau5 on @TicketWebUK because they sold out in less than 5 minutes and then there's more than 200 available on @viagogo. What. A. Joke. #burnthetouts #scalpthescalpers #whyisthislegal.
We've all been there. It's pretty shit. However, deadmau5 promised he'd sort things out.
TicketWeb, which is a subsidiary of Ticketmaster, didn't respond to deadmau5′s public tweet, so he slid into their DMs.
He did not mince his words.
I am beyond pissed. My fans are beyond pissed. I won't hesitate for a f**king second to cancel the event, refund tickets, and work with a ticket retailer who doesn't just shrug off the fact that a shitload of touts and bots ripped the tickets.
Eagerly awaiting a statement. Have a great f**king day.
While waiting for a response, deadmau5 continued to express his anger on Twitter.
He later wrote that he was "looking into producing an additional event with the promoters, without TicketWeb."
 It's nice to see artists actively deciding not to tolerate touting.
Just yesterday, Nine Inch Nails announced a massive tour of North America. In an attempt to combat touting, they decided to do things the old-fashioned way.
All seats (including the best seats) will be available for purchase in person only, first come, first served. Fans can purchase up to four tickets per show.
Here's how it works: You (an actual human being) show up at the box office, interact with the ticket seller (another actual human being) and purchase up to four tickets that will actually be handed to you on the spot.
Trent Reznor of Nine Inch Nails is veering into 'yer da' territory with all of those 'human beings' in brackets, but anyway…
The tickets will not be available online or anywhere else before or during the day.  You may encounter other actual human beings with similar interests likely to be wearing black clothing during the process and potentially interact with them. This experience has the poteential to be enjoyable. Nine Inch Nails has always been about bringing people together, living life to the fullest and good times.
When did Trent Reznor become that person at a meal who says "Whoever picks up their phone first has to pay for the food!!"? Fans, especially those who are disabled and those who are living in remote parts of America, were not impressed with the idea.
Some fans said that it would take them up to 8 hours to drive to a venue to get tickets, and that they didn't mind travelling for an actual concert, but they weren't interested in making a 16 hour round trip to buy a pair of tickets.
Only time will tell if deadmau5′s approach is more effective.
DailyEdge is on Instagram!