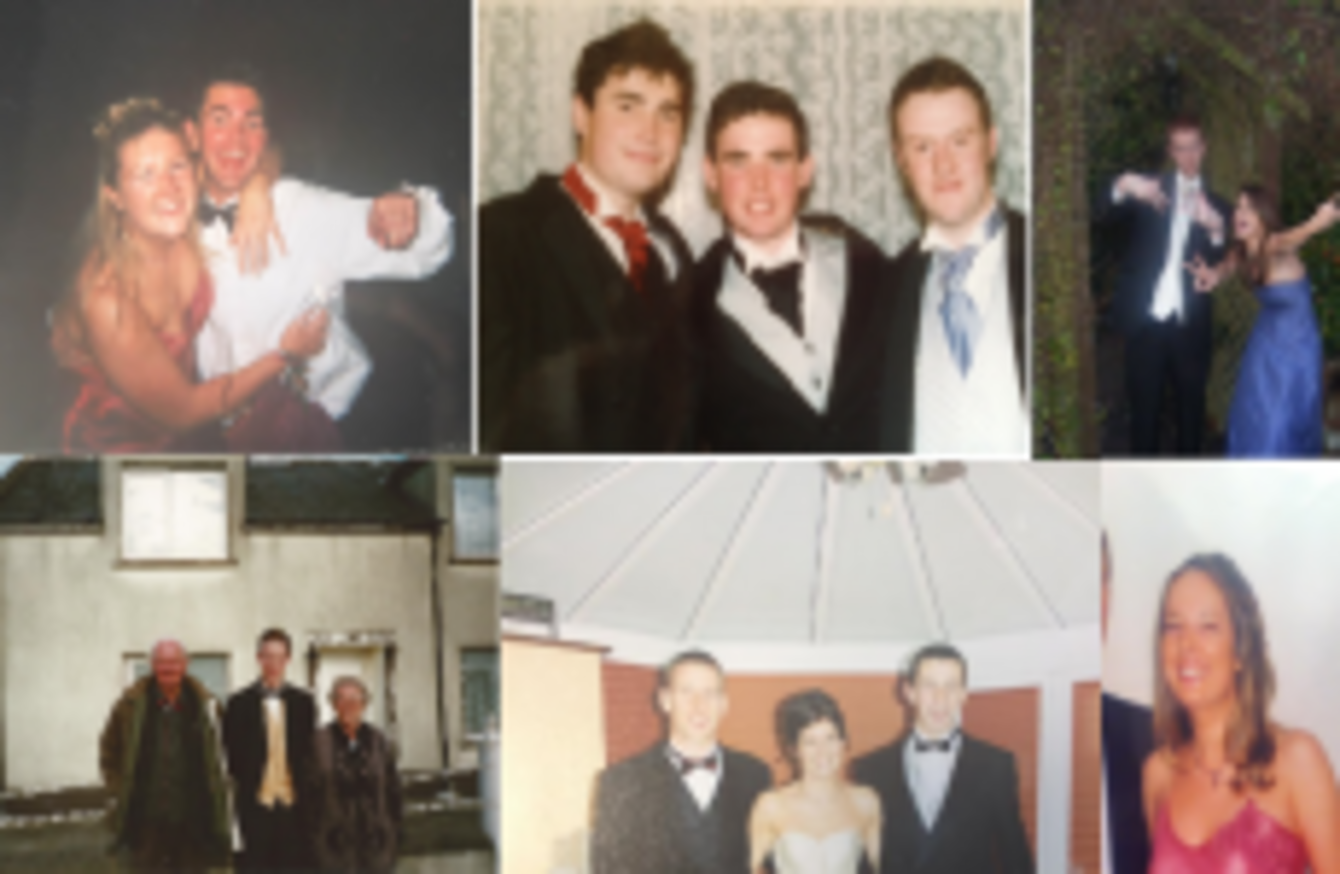 Scarleh.
Image: TheJournal.ie
Scarleh.
Image: TheJournal.ie
DEBS ARE, BY their very nature, awkward.
The mixture of nerves, money, social awkwardness, black-tie outfits, and often bucketloads of alcohol makes them – well, pretty much what you'd expect from a crowd of hyped-up 18-year-olds.
So with debs season well and truly under way, let's share with the group. What happened at your debs? What did you wear? Who did you bring? And most importantly, what was the single most mortifying thing that you did at it?
Since we're kindly folk here at TheJournal.ie, some of us have bravely shared some of our god-awful stories from debs night which we have tried and failed to repress. You're welcome.
Names have been redacted because of the mortification.
The fashion 
I am wearing a novelty tie in 95% of my debs photos and I can't find the remaining 5%.
I spent almost €400 on a dress which looked ridiculous. Corsets were in that year, unfortunately. Boobs everywhere.
The romance
I was popular among my male friends as a debs date as I "barely counted as a girl" and could be relied upon to leave them alone and not need minding. So I ended up going to 5, including my own to be fair.
I stupidly broke up with my boyfriend the week before and ended up going with my friend's cousin. Fair play to him for stepping up to the plate. Pity we had nothing whatsoever to talk about.
The photographs in the house before leaving for the hotel
Above: Fresh-faced reporter Ronan Duffy (right) 
Above: News editor Sinead O'Carroll
Above: News reporter Aoife Barry 
Above: TheScore.ie writer Steven O'Rourke
The preparation
The dress, the hair and the make-up was paramount. Looking back I am disappointed that I didn't get the limo with my mates, as I haven't had the opportunity to be in one since. We got the bus out to Meath where our debs was held in what can only be described as a barn. There had been a vote and it won out as last orders were the latest at 3am.
I ordered a limo only about two days before and it was easily the best thing about the whole night. It started at my house where there were plenty of drinks and and we then picked up my three mates with their dates at two different houses where there were also drinks.

We barely wanted to leave the houses it was so much craic and convinced ourselves, "sure it won't start on time anyway". I'd made a mix CD (how retro) and there was much singing on the way from Dublin to Trim, but by the time we got there we were two hours later than everybody else. One of the lads didn't even get a seat or dinner at his own debs.

The rest of the night is fairly blurry but I remember plenty of calls being made to the teachers who didn't come along telling them to drive from Raheny to Trim. There was also a rather cavernous nightclub in the hotel and breakfast rolls at 3am. It ended as most northside debs did in Leisureplex in Coolock.
The actual debs
Above: Reporter Michelle Hennessy 
Above: DailyEdge.ie writer Fiona Hyde
Above: Reporter Christina Finn 
Above: Deputy editor Christine Bohan
I had been dreading it beforehand but I actually really enjoyed it. Main memory from it is standing in the centre of a circle of people dancing to Limp Bizkit's 'Rollin'. Jesus.
I got sick under a table.
My main memory is that we had special shot glasses made with our school crest on it (very classy) and we all stood with our teachers at the meal for a final shot of Aftershock. There was torrential rain on the way home. The looks I got as I stepped off the DART with my date on the way home during morning rush hour were classic as we both looked like drowned rats. All in all, a great time was had. (Also, did everyone's debs come with breakfast at the end of the night/morning too?)
The sole aim of going to the Debs was to stay out as long as possible, while wearing uncomfortable shoes, slathered in fake tan, and wearing an immoveable 'updo' that was held in place with copious amounts of hairspray. But it was also the night where us post-leaving certs finally felt like we weren't lowly students anymore. We were over 18, we could stay out as late as we wanted, we were preparing for the Big Bad World of Adulthood, and by god we were loving it. We ended our night in the 24-hour bowling alley in Cork, feasting on fried food. I'm sure there's a metaphor for adult life in there somewhere…
I scored a teacher at a debs. Which isn't as bad as it initially sounds as I was a) 18 b) in college c) who am I kidding it's really bad.
Ok, that's us. Over to you. What happened at your debs? Dish.