Image: Donald Traill/AP/Press Association Images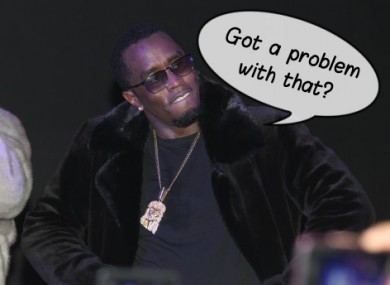 Image: Donald Traill/AP/Press Association Images
EVERY WEEKDAY MORNING, DailyEdge.ie rounds up the best of the day's celebrity dirt – from the top to the very bottom.
Forget Diddy and P Diddy, Sean Combs is bringing Puff Daddy back. So many name changes, so little time.
Combs dropped his original stage name in 2001, and said sayonara to the P four years later in 2005.
The rapper is releasing a new album – his first since his collaboration with Dirty Money in 2010 – so he's ditching Diddy for Daddy ahead of the big day.
The first single -Big Homie -will be released on March 31st, with album MMM to follow at an unconfirmed later date.
Oprah didn't hold her tongue when telling Lindsay Lohan to get her act together. Who knew the queen of daytime TV could curse?
Winfrey has been hosting a series of in-depth interviews with LiLo and took a slightly tougher approach with the former child star.
Source: OWN TV/YouTube
"You need to cut the bull****", Oprah told Lohan, much to her amusement. In fairness, we kind of love her new fierce attitude too (YouTube)
Jonathan Rhys Meyers says sex scenes are a real mood killer. He's done millions of them, he should know.
The Irish actor was sitting down for a chat with The Evening Standard when he revealed that all the on-screen canoodling really takes it out of him:
Well listen, you try it a few times. I'm telling you, you do two days of shooting sex scenes on a film set, you'll be exhausted after it. You'll get back to your partner, you won't wanna touch them. You'll be like, 'I just wanna have a bath.'
Charming. (Evening Standard)
And the rest of the day's celebrity dirt…