WE ALL KNOW that when you take your pet out for a walk you have to clean up any mess they make.
We all know this but some people still don't understand how you have to do it.
Thankfully over in the UK the people of Bristol are getting the message loud and clear thanks to this pretty full on anti-dog-poo ad:
via James Rhodes / Twitter
The picture has been picking up plenty of online attention over the last few days after Derren Brown retweeted James Rhodes' initial posting of the image: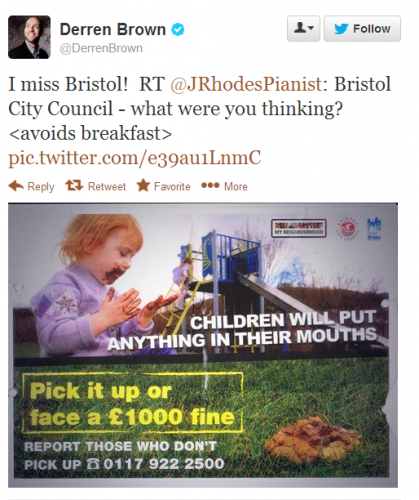 Since then it's picked up international attention and Bristol City Council told The Huffington Post that "we are out to shock people with this"
Continuing their use of the word shock they said:
We think it is shocking if people leave their dog excrement and there are children who do get covered in it and that is shocking.
Shocking indeed.
The poster was created years ago and has been used in various parts of the UK by local authorities.
Either way the message is pretty clear and if you weren't adamant about cleaning up your dog mess you certainly will be now.