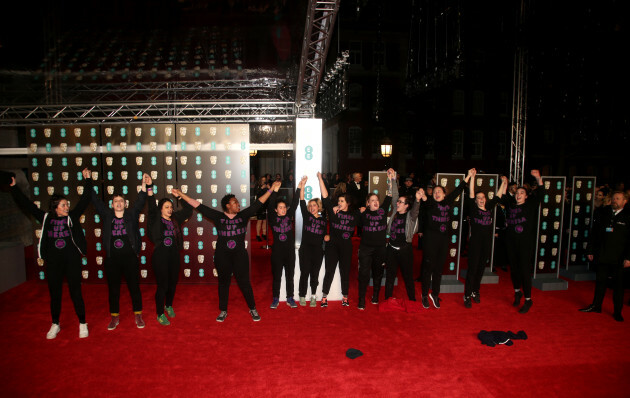 Yui Mok Yui Mok
LAST NIGHT A group of activists called Sisters Uncut crashed the red carpet in protest of the UK government's domestic violence policies.
Before doing so, they released a press release to their website Sisters Uncut where they expressed disapproval of the Conservative party's domestic violence policies which leave survivors "locked up in prison, locked out of refuges and locked in to violent relationships".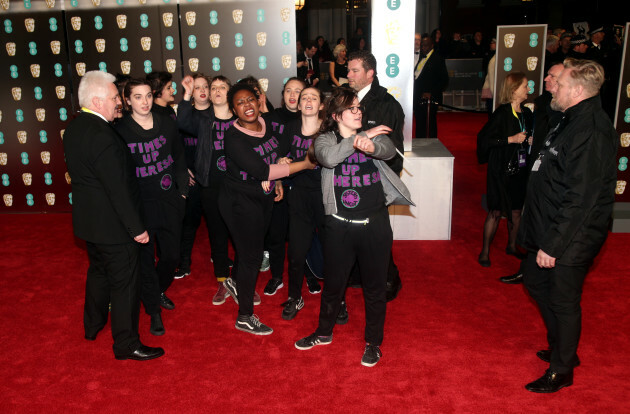 Yui Mok Yui Mok
Speaking to The Standard, one of the protesters said "We are in solidarity with the Time's Up campaign. As well as calling Time's Up on individual perpetrators, we have to call Time's Up on our government for failing to provide us with real options and support."
The protesters, in t-shirts that said "Time's Up Theresa" formed a human chain and lay on the ground chanting "Theresa May, your time is up!" while security struggled to quieten them.
If the video won't play, click here.
They were eventually led away by police, but no arrests were made.
In 2015, the same group protested at the 2015 premiere of the movie Suffragette, by lying on the ground chanting "Dead women can't vote", a protest which Helena Bonham Carter  described as the "perfect" response to the film.
Celebs at the BAFTAs continued to wear black and speak out about sexual harassment and abuse within the industry.
While accepting one of five awards for Three Billboards Outside Ebbing, Missouri Martin McDonagh told the audience:
I think what we are most proud of, about this film, especially in this Time's Up year, is that it's a film about a woman who refuses to take any shit anymore. Played by a woman who has always refused to take any shit. So I would like to thank Frances McDormand for a performance that's as unapologetic as it was fearsome.
Ian West Ian West
When Frances took to the stage to receive the award for Best Actress, she acknowledged the red carpet protesters.
McDormand didn't wear black, as many of the other actresses did. She explained:
As Martin said, I have a little trouble with compliance. But I want you to know I stand in full solidarity tonight, with my sisters in black. I also want to say that I appreciate a well organised act of civil disobedience.
She added:
I am thrilled that activists all over the world have been inspired by the set decoration of the three billboards in Martin's film and have taken to the streets and let it be a part of the positive public discourse that's happening.
DailyEdge is on Instagram!