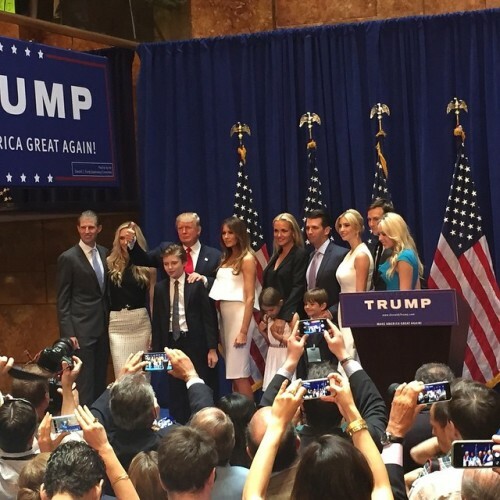 realdonaldtrump realdonaldtrump
EARLIER THIS WEEK, Donald Trump announced his intention to run for President of the United States in 2016.
In a speech delivered to a large crowd of assembled supporters, Trump stated that he wanted "to make our country again".
The only problem?
The supporters were paid actors.
Reporter Angelo Carusone grew suspicious that the supporters were legit when he saw this Instagram photo. Carusone recognised the man as a background actor and discovered that the woman was also a working actor.
Medium Medium
After further digging around, Carusone confirmed that a casting agency, Extra Mile NYC, had enlisted actors to appear at Trump's campaign launch.
The Hollywood Reporter subsequently verified Carusone's claims and was able to get their hands on the casting call itself.
We are looking to cast people for the event to wear t-shirts and carry signs and help cheer him in support of his announcement. We understand this is not a traditional "background job," but we believe acting comes in all forms and this is inclusive of that school of thought.
Actors were paid the princely sum of $50 to cheer on Trump.
Donald Trump has yet to comment on the reports, but he did invite Sarah Palin out for pizza yesterday.
So.