WE'VE REACHED THAT time of the month.  You know what we're talking about, the worst weekend in the month.
It's almost payday, but you're on your last few shillings, and it's going to take a little work to make the next few days fun.
Well not to worry, because we're here with some suggestions of how tv, beautiful, free tv, might fit in.
If you're feeling a little clueless… JFK (RTE1, Fri, 21:00)
WorleyClarence
If all the talk of the anniversary of JFK's assassination has made you feel a little clueless, why not give the Oscar-winning film from 1991 a watch?
It's a good long film as well, so there won't be much time to think about FOMO if that's the buzz you're on.
If you're dying for Dr. Who… The Graham Norton Show (BBC1, Fri, 22:35)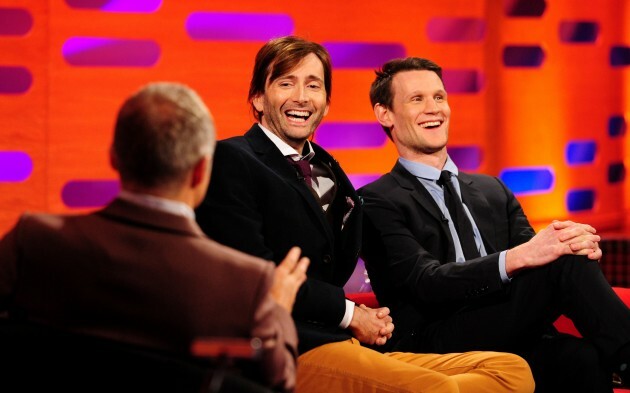 Ian West Ian West
If you actually can't wait for Dr. Who tomorrow, why not have a look at Graham Norton, which rarely fails to be amusing.
Tonight, Graham is joined by Matt Smith and David Tennant to talk about tomorrow's anniversary special.
If you're sick… First Knight (RTE1, Sat, 14:20)
gejzer82
Winter vomiting bug?  Really bad cold?  Man flu?
Why not sit on the couch and watch the lovely piece of film that is First Knight.  It's got battles, it's got romance, it's got Sean Connery and Richard Gere.  You can't argue with that.
If you're having pre-drinks… The X Factor (UTV, Sat, 8pm)
The X Factor UK
Ok, so even if you're not watching the X Factor this year, chances are you've watched it in previous years, and this week's episode sees former winners come back to mentor the current contestants.  It's the tenth anniverary, y'see.
It's perfect 'have on in the background' fare.
If you've a lend of a child… Ice Age: Dawn of the Dinosaurs (C4, Sun, 17:35)
20th Century Fox
Have a lend of someone's child?  Not sure what to do?  This'll keep you both busy for a couple of hours.