NOT A LOT of things can get people out of bed and queuing at 10.30am on a weekend morning, but Dublin Comic Con – the brainchild of friends Derek Cosgrave and Karl Walsh – brought around 7000 fans of all things nerdy to the National Show Centre in Swords last weekend.
They flocked to see special guests like Ernie Hudson, who played Winston in Ghostbusters, and Kevin Conroy, the voice of Batman in the caped crusader's popular animated series.
https://vine.co/v/MVwYtu2BKOD
They could also try their hand at a zombie survival course, take a model-making workshop, and wander through recreations of sets from Alien, Star Wars and The Walking Dead.
But we all know that comic con is really about the fans themselves, many of whom travelled from all over the country for the event, making their own costumes from scratch.
L-R: Steph Ossenbrueggen from Germany as Rosette Christopher (Chrono Crusade), Daenerys Targaryen and Khal Drogo (Game of Thrones), Brian Kiely from Tipperary as Loki (The Avengers)
Graeme Carter from Bray and his one-year-old daughter, Emer, came dressed in matching Batman and Robin costumes.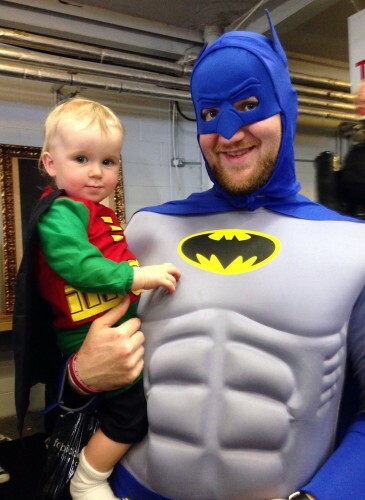 Graeme says he's happy events like this are finally taking off amongst the comic book fans of Ireland:
I grew up in the West of Ireland, and there was nothing. We'd watch Star Trek at 5 o'clock every evening, and that was about it. I've been to a lot of cons abroad when I was travelling, and the size of this one is very impressive.
He has big plans for little Emer to follow in his geeky footsteps. "I brought her to give her mum a day off," he says. "But also, I want her to be a nerd like me. I'm starting early!"
The convention also encourages fans to get creative with their costumes – Chris Pender from Kildare is a self-proclaimed 'Whovian' (that's a massive Doctor Who fan, for the uninitiated) who spent months making this extremely impressive Tardis ensemble.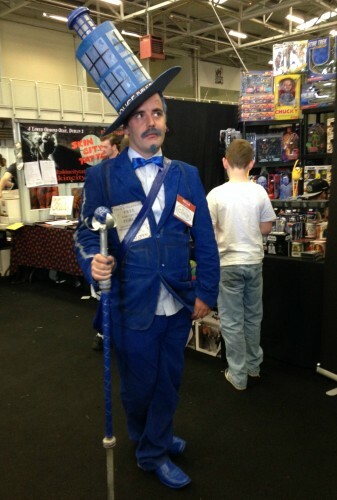 https://vine.co/v/MVwlbqxWFhO
Chris runs his own quirky jewellery business, Geekasuras. "We're just getting into conventions now," he says. "I spent two months making my costume, but I'll definitely try and wear it again to other events."
For some, like seven-year-old Amy Carey, Dublin Comic Con is a family day out. Her mum, Nicola, told DailyEdge.ie that comic books are practically in Amy's blood.
Amy loves drawing – her brother is an artist, he's showing his work here today. Her dad writes for [independent Irish comic book label] 

Lightning Strike

 too, so it's in the family.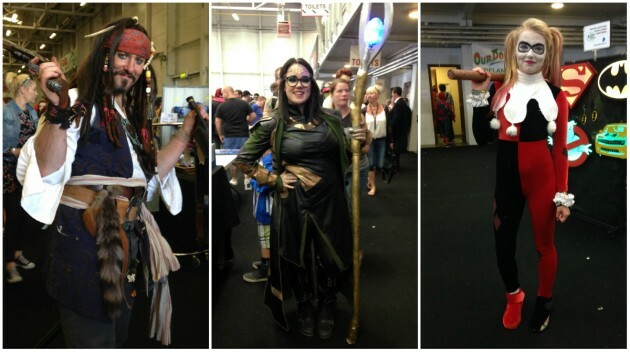 L-R: Captain Jack Sparrow, Ciara Brown from Coolock as Loki (The Avengers), Lara Way from Wexford as Harley Quinn (Batman)
Dublin Comic Con 2014 wrapped up last night, but organisers Derek and Carl won't rest on their laurels for long – by December, they'll be planning round three.
For two guys striking out with an idea of their own, Derek says they're pretty proud with how it has all turned out:
The best thing for me was when I was standing at the door saying goodbye to people, and saw little kids holding their superhero posters and saying: "Wasn't that great mum?" That's what it's all about.