THE DUP HAS been the talk of the political world in the last 24 hours, after it emerged that the party are set to help the Conservatives and Theresa May into power.
People in England, Scotland and Wales are frantically searching online for what the party stands for – with many threads going viral about the party's core beliefs.
But one story, above all else, is getting shared: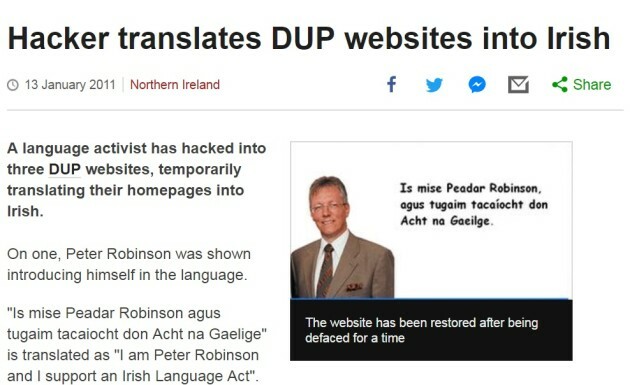 BBC BBC
But some people sharing the headline think that this has *just* happened
The original story details a "language activist" called Hector O'Hackatdawn, who translated the homepages of three DUP websites, with one reading:
"Is mise Peadar Robinson agus tugaim tacaiocht don Acht na Gaelige" and is translated as "I am Peter Robinson and I support an Irish Language Act".
And the story goes into the core of the supposed motive:
Irish language legislation has been a source of friction at Stormont with the DUP repeatedly frustrating Sinn Fein appeals for its introduction.
Ireland's premier Gaeilge Twitter account @theirishfor, with his tongue firmly in cheek, immediately distanced himself from the hack
People noted the comic sans font
The ultimate insult.
Half the people sharing it seem to think it's brand new information, while the rest are aware of the fact that it's from 2011
Just another little incident in a seriously hectic 48 hours in Northern Ireland-Ireland-Westminster relations
"Is mise Peadar Robinson" has meme written all over it, to be fair.
DailyEdge is on Snapchat! Tap the button below to add!