SO EIGHTIES DREAMBOAT and Pretty in Pink and Weekend at Bernie's star Andrew McCarthy is in Dublin.
The actor is now a travel writer and is in Ireland to promote his latest book The Longest Way Home. He's arrived with a less than generous tweet about the weather though:
If you're still scratching your head and saying to yourself 'who the blazes is Andrew McCarthy?', allow us to enlighten you with a few facts:
McCarthy was a member of a group of young actors in the eighties known as the Brat Pack, which also featured Emilio Estevez, Anthony Michael Hall, Rob Lowe, Demi Moore, Judd Nelson, Molly Ringwald and Ally Sheedy.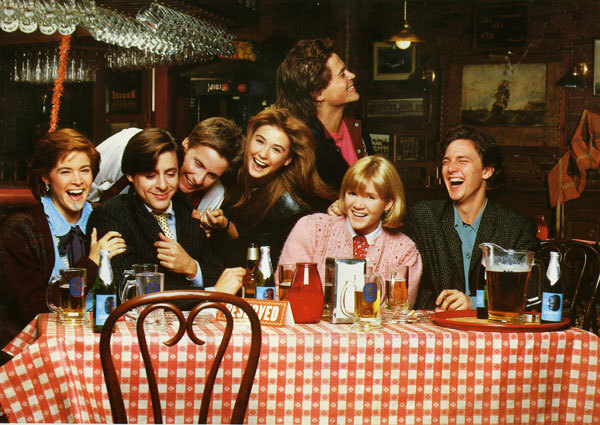 (L t R) McCarthy (far right) in St. Elmo's Fire
Just look at who is following Andrew McCarthy on Twitter. It's only his Breakfast Club and Brat Pack pals Molly Ringwald and Emilio Estevez. YOU GUYS!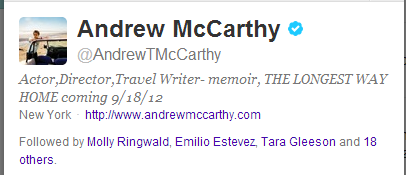 McCarthy also starred in Mannequin in 1987, alongside Kim Katrall and James Spader. The song Nothing's Gonna Stop us Now by Starship was on the soundtrack. Here's the video, with bonus Andrew McCarthy:
YouTube/FireSparks23
Molly Ringwald, Andrew McCarthy and James Spader starred together in Pretty in Pink, playing teenagers. Ringwald was 17, but McCarthy was 23 and Spader was 25. The film also starred Jon Cryer who is now one of the stars of Two and A Half Men.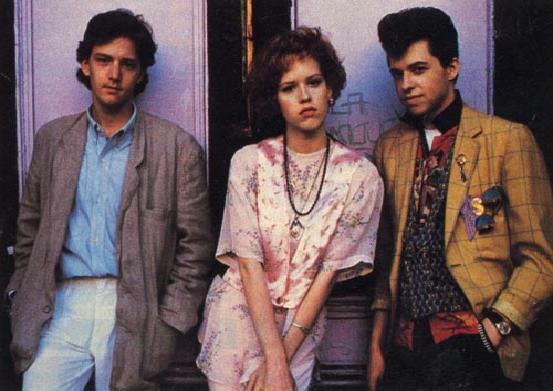 (L t R) McCarthy, Ringwald, Cryer in Pretty in Pink
If you want to meet him, Andrew McCarthy will be in Easons on O'Connell Street in Dublin on Saturday 13 October at 11am.
Conan O'Brien is also in Dublin. Maybe they'll meet for coffee? Watch this space.
UPDATE: We have been informed that Andrew McCarthy's wife Dolores is from Dublin, and that he has spent some time living here. Welcome home Andrew! (H/T to @BackPedalling for the info)