SOME OF YOU may know the ins and outs of the Elizabeth Holmes story at this stage, and if so, good on ya, fair dues, you played a blinder, and all the rest.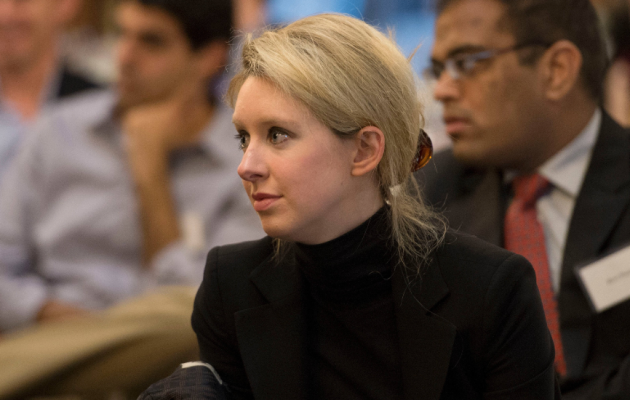 PA Images PA Images
But if you're one of those people who has spotted her name and face countless times in your news feed in recent days, but presumed you missed the boat when it came to catching up, fear not because this one's for you.
To ensure you're up to speed for the next watercooler conversation, here is everything you need to know about Elizabeth Holmes and the sorry tale of Theranos.
So, long story short…
In 2003, at the age of 19, Elizabeth Holmes founded Theranos; a now defunct biotech company which purported to have created revolutionary blood tests.
Right, then what happened?
Well, Theranos got off to an amazing start, and by the following year, Holmes had raised $6 million in funding.
In 2014 – years before the honour was bestowed upon Kylie Jenner – Holmes appeared in Forbes magazine and was recognised as the youngest ever self-made female billionaire. 
As you may have now guessed…
After raising more than $700 million from investors, the company's claims appeared to be unfounded, and the house of cards began slowly toppling. Indeed, Forbes listed her net worth at zero.
So, when did it all start kicking off?
John Carreryou of The Wall Street Journal began investigating the set-up in 2015, the FBI and the U.S. Securities and Exchange Commission got involved, and as it stands today, Elizabeth and Theranos's former COO, Ramesh Balwani, have been charged with 11 counts of fraud.
Right, got it. Now, what's the craic with all the Steve Jobs references?
Well, there's been many scornful insinuations that Elizabeth's trademark black turtleneck  is modelled on Apple's co-founder, Steve Jobs.
Oh, and her propensity to lower her tone of voice? Yeah, it's been wrecking heads. 
OK, suitably intrigued?
Well, lucky for you, there are multiple platforms telling the story of Elizabeth Holmes right now.
Earlier this year, ABC and Nightline released a six-part podcast series entitled The Dropout, which details the rise and fall of Elizabeth, and indeed, Theranos.
And this week, The Inventor: Out For Blood in Silicon Valley, a documentary film made by Alex Gibney, was broadcast on HBO.
And yep, people are still engrossed in Elizabeth.

Loving HBO's The Inventor! #TheInventor #HBO

— hotmessmemoir (@hotmessmemoir) March 19, 2019
So far the most notable thing about The Inventor is every woman coming across her pinging her as a fraud/fake

— John Leavitt 🌹 (@LeavittAlone) March 19, 2019
This Theranos movie #TheInventor is CHILLING.

Watching the faces of the unwitting engineers, employees...

Knowing they did not know what she knew. Credulous, gullible, completely snookered + exploited.

Maddening😡

Sadly NOT the last documentary we will see from this era...

— Josh Wolfe (@wolfejosh) March 19, 2019
Watching "the inventor" I really cannot stand this fake deep voice I dunno how long I can do this

— christine teigen (@chrissyteigen) March 20, 2019
The deep voice paired with the non-blinking eyes will haunt my dreams forever.

— Valentina Nguyen (@valvuitton) March 20, 2019
DailyEdge is on Instagram!