WHILE TWITTER ON this side of the Atlantic was having a meltdown over the #BaeOfPigs, the 2015 Emmy Awards was in fulls swing in Los Angeles.
Here are the bits you might have missed…
1. How frigging hot it was
It was around 100 degrees Fahrenheit on the Emmys Red Carpet yesterday evening.
That's around 38 degrees Celsius. Roasting. ROASTING.
Amy Schumer did Ryan Seacrest a solid and mopped his brow. Imagine wearing a full tux in 38 degree heat: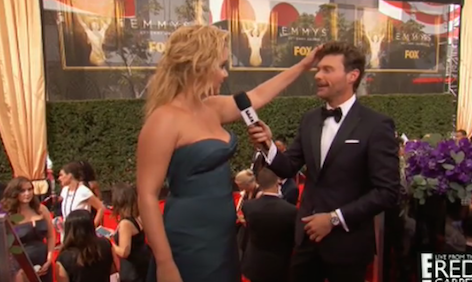 @jarettsays @jarettsays
2. This Red Carpet burn
Sarah Paulson was nominated for her role in American Horror Story, in which she plays a woman with two heads. So when E! host Guiliana Rancic asked her if she'd get two Emmys if she won, she was done. DONE:
https://vine.co/v/ePhMihOnrzp
https://vine.co/v/ePbPELVPVtW
3. Joanna Newsom's dress
Oh honey, no.
Vince Bucci Vince Bucci
4. Heidi Klum's dress
Oh honey, NO!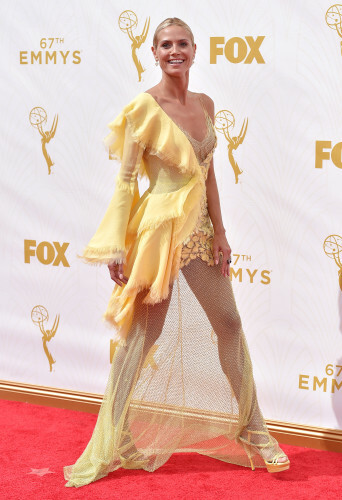 Associated Press Associated Press
5. The Amys
Amy Schumer and Amy Poehler presented an award together, because that's what is right and good in this world.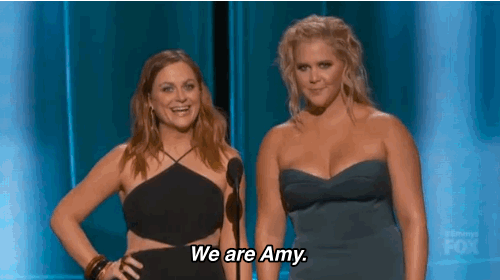 Let's not forget what tonight what tonight is really about. Celebrating hilarious women and letting the Internet weigh in on who looks worse.
Twitter wants them to host the Oscars together. Which is a fine idea. But nothing, and we mean NOTHING beats Amy Poehler and Tina Fey together. Sorry Schumer.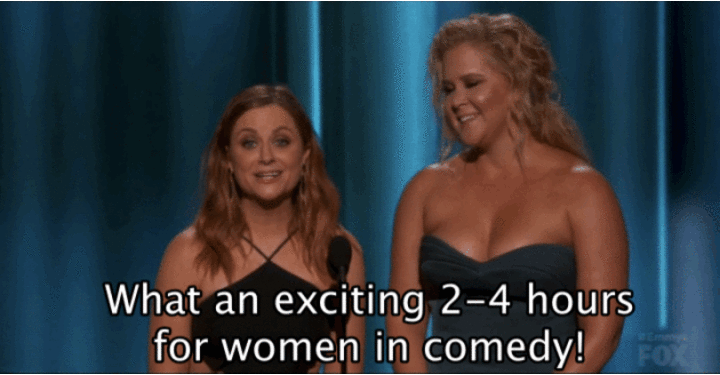 Buzzfeed Buzzfeed
6. #AskHerMore
Amy Poehler's Smart Girls foundation was pushing the #AskHerMore movement, which encourages reporters to go beyond the usual "who are you wearing" question for both the men and the women.
Some interesting queries were put forward on the #SmartGirlsAsk hashtag:
7. Sofia Vergara having a snack
Girl's gotta eat.
@schmennagins @schmennagins
https://vine.co/v/ePOKVaiuUFL
8. Richard Jenkins gettingstarstruck by Gaga
https://vine.co/v/ePeJagIrjKF
9. Tracy Morgan's standing ovation
Last night's Emmys saw the 30 Rock actor return to the stage after a road accident in 2014 left him with a brain injury. At last year's ceremony Jimmy Kimmel sent a message to Morgan, telling him "we'll see you here next year".
He thanked his family, his doctors and still managed to squeeze in a joke, saying that he was feeling much more like his old self and…
https://vine.co/v/ePM5AlwY6Tv
10. Viola Davis' speech
The How to Get Away With Murder star became the first black woman to win a Leading Actress in a Drama Emmy and cam prepared with a speech befitting the occasion.
https://vine.co/v/ePeQmHwETIL
She thanked the women who have come before her and the people who made it possible for her to be there:
You cannot win an Emmy for roles that are simply not there. So here's to all the writers, the awesome people that are Ben Sherwood, Paul Lee, Peter Nowalk, Shonda Rhimes, people who have redefined what it means to be beautiful, to be sexy, to be a leading woman, to be black.And to the Taraji P. Hensons, the Kerry Washingtons, the Halle Berrys, the Nicole Beharies, the Meagan Goods, to Gabrielle Union, thank you for taking us over that line.
Television Academy / YouTube
11. Andy Samberg and the Castle joke
The Nathan Fillion ABC cop comedy/drama Castle returns for its eighth season in the US tonight, and its longevity provided the 'best joke' of Emmy host Andy Samberg's musical number:
thelonelyisland / YouTube
12. The Emmys Snapchat story
If an event happens and there isn't someone compiling a dedicated Snapchat story, did it even happen?