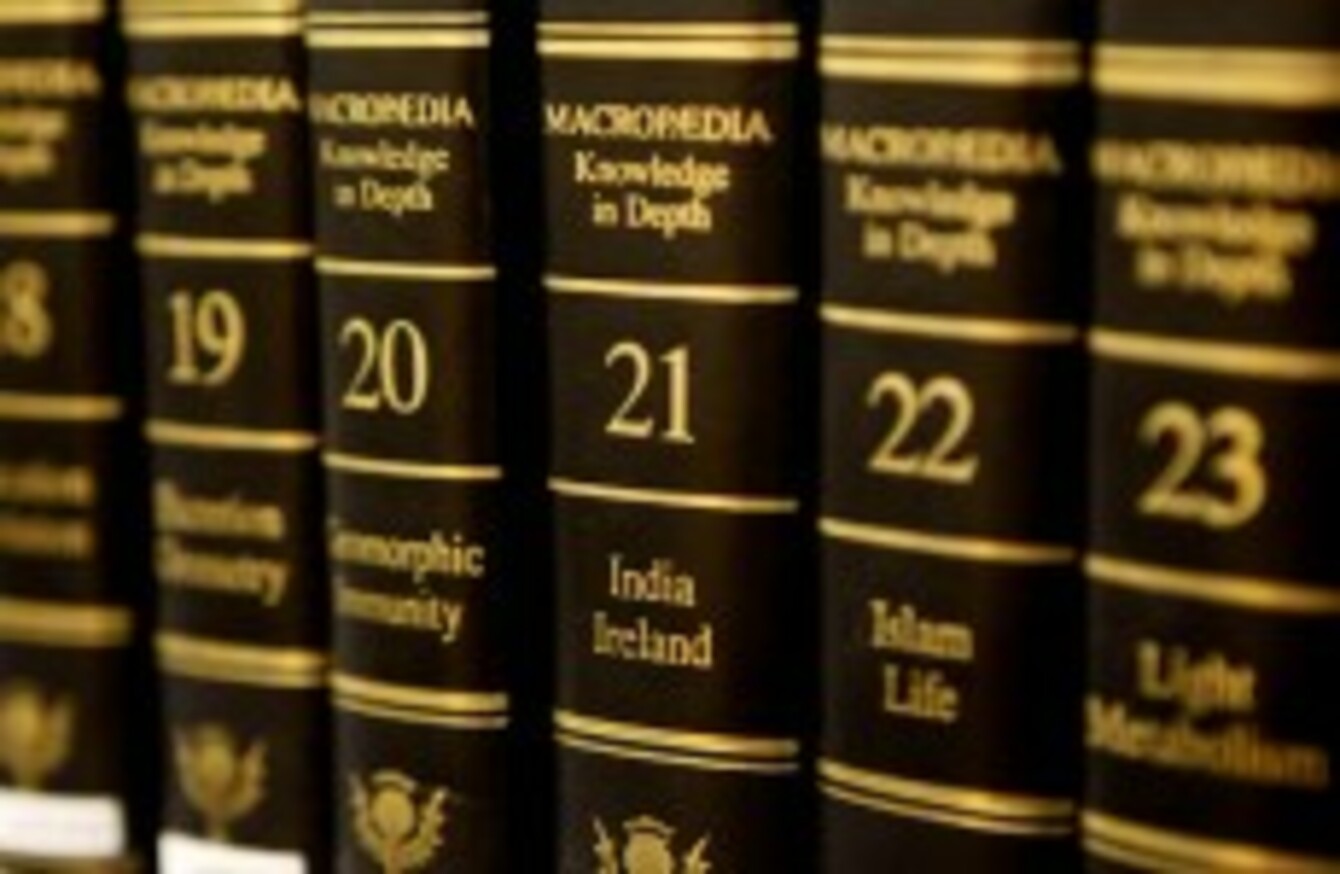 Image: Niall Carson/PA Archive
Image: Niall Carson/PA Archive
THE ENCYCLOPAEDIA BRITANNICA has announced it is ending its 244-year print run – converting to a digital-only edition once the current stock of print volumes has been sold entirely.
The well-known encyclopaedia – which had recently extended into 32 volumes – says its business is primarily conducted digitally now, and that it is now making the full shift to electronic content.
The encyclopaedia was arguably the best-known and most authoritative of all reference publications, but will not advance its current nine-stone edition which the New York Times said included new entries on the likes of the human genome project and climate change.
In a blog entry, company president Jorge Cauz said that although the publication was widely perceived as reliant on print, "no single medium, neither books nor bits, is at the core of our mission".
That mission is to be a reliable, up-to-date, and scholarly source of knowledge and learning for the general public, and I believe that 200 years from now, this mission will continue to be vital and relevant and that the people of the future who are committed to it will use the best available technology to fulfill it.
He added that while the end of the print edition could be seen by some as an "unwelcomed goodbye", he argued that the move to a largely online model meant that content could be updated within minutes of new information becoming available.
Managing director Ian Grant told RTÉ's Morning Ireland that while some people were happy to use free substitutes, most notably Wikipedia, others were willing to pay for the editorial process that Britannica used to refine its own content.
"Britannica publishes very specifically for different age levels; we have a children's edition online, Primary Britannica; we have an edition available for secondary students… those are very carefully edited and prepared for age levels," he said.
Around a third of the 12,000 copies produced in the Britannica's final 2010 32-volume print edition remain unsold. They are on sale online, at a mere $1,395 (€1,070) apiece.
Britannica's reputation was dealt a blow in 2005 when a study published by Nature magazine questioned its supposed authority over Wikipedia, noting that in a random selection of 42 articles, Wikipedia had four errors and Britannica had three. Britannica and Nature disputed the accuracy of the findings.
Its final edition also prompted controversy after reportedly giving a seriously misleading account of the Irish Civil War in 1922 – reporting that it was fought between Catholic Southerners and Protestant Northerners, rather than as a political conflict over the 1921 Anglo-Irish Treaty.