LAST NIGHT, SHERLOCK creator Mark Gatiss teased that Sherlock fans could expect a little treat after midnight.
And he wasn't lying.
After midnight, the official BBC One Twitter account posted the first photo from the forthcoming Sherlock Christmas special.
The special will be set in the Victorian era, hence the extravagant moustache and 1800s garb. It will also be the first episode to air since January 2014.
The image caused the Sherlock fandom to wake up from hibernation and go into meltdown mode.
For some, it couldn't have come at a better time.
Although people did have strong feelings about that moustache.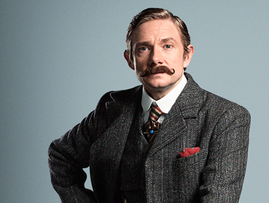 And people were especially devastated about Sherlock's lack of curls.
You can't just disappear for 18 months and come back into people's lives with perfectly slicked-back hair after all.
BRING BACK THE CURLS OR NO DICE.
Time to set up a petition, tbh.