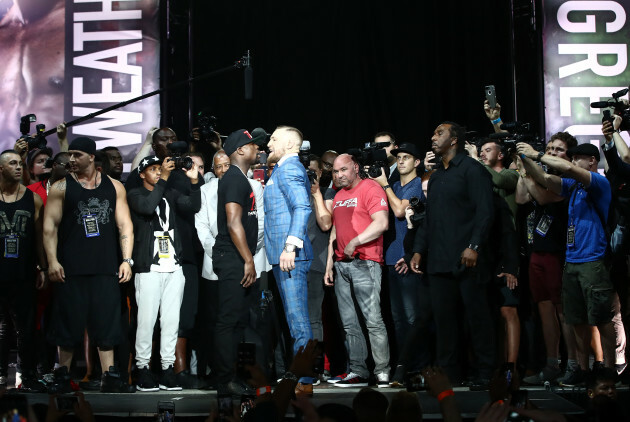 SIPA USA / PA Images SIPA USA / PA Images / PA Images
THE STEAMING HYPE train for the Conor McGregor vs Floyd Mayweather fight arrived in Toronto last night – its second press conference location after an eventful LA opener.
And, well, the drama got even more surreal again.
During the run-of-the-mill trash talking on stage, Mayweather walked up to McGregor and called him a "f**king eejit" – seen around the 10 minute mark here
Octagon News / YouTube
What.
Of all the mad things to happen in the bizarre run up to this fight, Mayweather using perhaps Ireland's mildest slagging is right up at the top of the list.
Seeing one of the most famous American boxers of all time coming out with "eejit" on stage was a strange feeling for Irish people watching at home

@newschambers @newschambers
It's such a tame insult, people were wondering if Mayweather is fully aware of what "eejit" means
Let's face it though, seeing it make an appearance on the world stage was a thrill
Can all American sporting trash talk now involve eejit? That would be great.
McGregor fans weren't too impressed with it as a term though – surely he could have picked a better Irish slagging?
Gombeen, maybe.
The event featured the standard trash talking elsewhere, and an argument over whether Mayweather should be allowed to sport the tricolour
SIPA USA / PA Images SIPA USA / PA Images / PA Images
It feels more like a staged drama than an actual rivalry at this stage.
Given it was in Toronto, there was an obligatory appearance by Drake too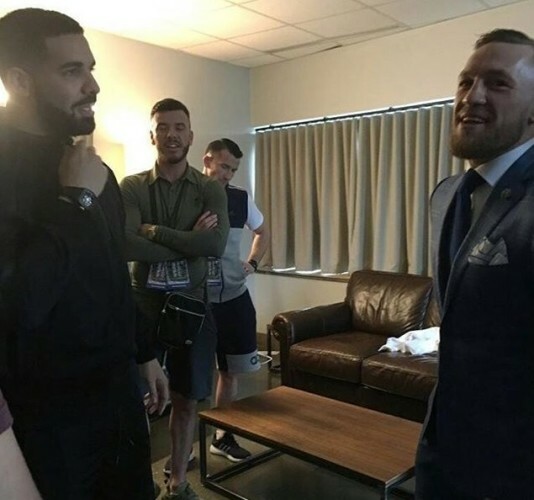 Twitter Twitter
The next stop for the circus is London and New York.
If Floyd wants to broaden out his Irish trash-talking, there is plenty of expert analysis out there for him.
"Dryshite" would be a popular choice.
DailyEdge is on Snapchat! Tap the button below to add!