SOMETHING'S AFOOT IN the Vintage and Classic Cars section on DoneDeal.ie
An ACTUAL foot, to be precise.
Wexford based seller German Shepherd is offering up a vintage spág for just €1.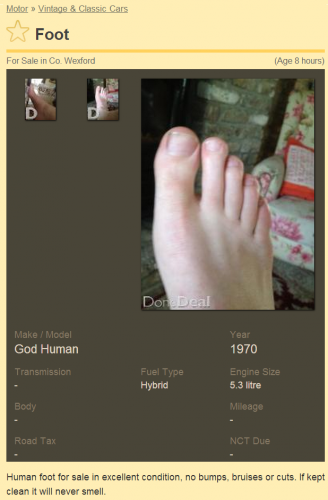 DoneDeal.ie DoneDeal.ie
The seller assures potential buyers that they're getting plenty of bang for their buck:
Excellent at walking, running, climbing and jumping. Can also swim and walk barefoot. Has never done truck pulling or walked on hot coals. Is excellent at finding its way home and has done so when my brain has been switched off.
And if you're any good at doing deals they might just throw in a little something extra:
May consider letting the leg go with the foot if offer is good enough, it's a right foot and i will throw in an assortment of shoes with the deal.Can not sell the left foot as I will need it to hop around after selling this one.
Better hop to it before the offer is off the table.