THE MAN AT THE centre of the upcoming film Foxcatcher has said the film has "jeopardised his legacy" by implying there was a sexual relationship between him and his wrestling coach.
The film tells the true story of Mark Schultz and his brother Dave (played by Channing Tatum and Mark Ruffalo), two Olympic-grade wrestlers who were sponsored by eccentric multimillionaire John duPont (Steve Carell).
Last week, Schultz went on an all-caps Twitter tirade against the movie and its director, Bennett Miller.
In tweets later deleted but cached by Buzzfeed, he writes:
YOU THINK I'M GOING TO SIT BACK AND WATCH YOU DESTROY MY NAME AND REPUTATION I SWEAT BLOOD FOR. YOU AIN'T SEEN NOTHING YET DUDE. Everything I've ever said positive about the movie I take back. I hate it. I hate it. I hate it. I hate it. I hate it. I hate it. I hate it.
Schultz has previously been supportive of the film, even attending the world premiere at the Cannes Film Festival with director Miller and the film's stars.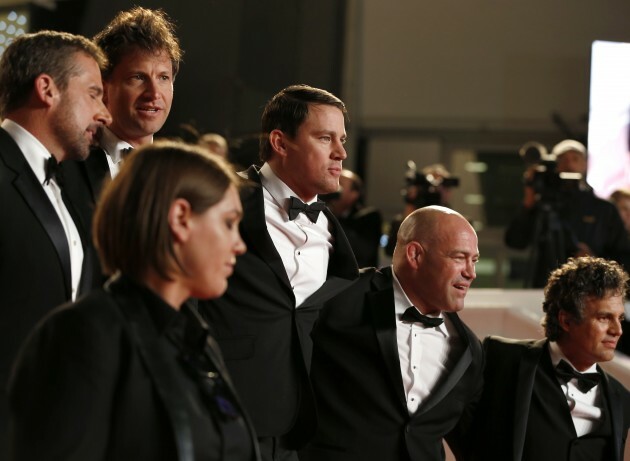 Alastair Grant / PA Wire Schultz, second from right, with the film's stars at Cannes Alastair Grant / PA Wire / PA Wire
In a Facebook post, Schultz went on to list what he perceived to be factual errors in the film – specifically, a scene that implies that Schultz and his former coach duPont may have had a sexual relationship:
Leaving the audience with a feeling that somehow there could have been a sexual relationship between duPont and I is a sickening and insulting lie.
On Thursday, Schultz apologised "for the harshness of my language" but defended his position on the film.
My story and my life are real. I am a real human being. While I may have tweeted out of anger, I in no way regret standing up for myself… I apologise for the harshness of my language, but I am firm in where I stand.
Despite this, he later posted a message of support for the film's stars, saying the actors "HAVE TO WIN".
Foxcatcher is released in Ireland on January 9.