SO RIGHT NOW, we can all agree that it's cold AF outside.
It's Ireland. It's February. It's hardly a surprise.
But a time will soon come when most people will feel comfortable removing those extra layers and retiring that extra blanket because, you know, seasons and all that.
But, here's the thing, seasons have little to no effect on a person who is, by nature, a walking icicle.
They feel cold, and they feel the cold.
And if you're one of these poor unfortunates, you're about to get a brief overview of your life as you know it.
1. Hot water bottles are your personal saviour.

You keep them at home, in the office and you've even been known to carry a mini one in your handbag.
You size up hot water bottles the way other people size up bottles of vino; cost, strength and how good it's going to make you feel.
2. Headphones over earphones FTW.

A worrying amount of your decision-making involves considering how warm the result is going to make you.
And that's why you always opt for headphones over earphones when it comes to updating your gadgets. Yes, the sound quality is better, but those lads also know how to keep the chill out.
3. Leather gloves
While the vast majority of people would grab the first pair of gloves they see in Penneys, this isn't the case for the permanently cold among us.

Life has taught us some hard lessons, and this includes knowing that leather gloves are the only way to go if you want to make it through the day with all your fingers intact.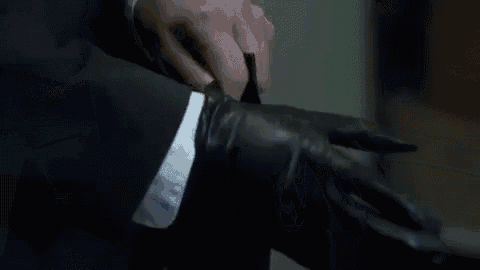 4. Pumps aren't an option
Much and all as you might want to rock ballet pumps or sandals once the seemingly warmer weather arrives, this just isn't an option.

When your toes threaten to snap off on a regular basis, you need to use your common sense on this one.

5. Handshakes are always awkward
The moment you make it through a handshake without having the other person grimace at your cold dead hands will, well, probably never happen.
"Cold hands, warm heart… ah, whatever."
6. Showers are second only to hotwater bottles.
You find yourself regularly fantasising about getting heat into your bones, and you've yet to be disappointed by a piping hot bath or shower.

Yes, stripping off is traumatic and facing the cold blast of air once you leave the bathroom is heartbreaking, but the memory of that steaming shower will live on.
7. Your goosebumps are part of you.
And you conceal them the way other people conceal their blemishes.
You wouldn't have picked this life, but there's not much you can do about it now.
8. You check the weather app religiously.
Pointless and all as you know it is, you check the weather app every morning in case Ireland has found itself in the grips of a heatwave.
Sure, nothing major will change for you, but you might be able to ditch that third layer.
9. You have been openly mocked for your at-home attire.
The moment you're home you shed your hat, scarf, gloves and overcoat.
And you immediately turn to your woolly socks and fleece ensemble before accessorising with a throw and your beloved  hotwater bottle.
10. Dining al fresco isn't an option.
And neither is eating anywhere near the door.
You're paying for this meal, and you'll be damned if you're going to spend it turning (extra) blue.
11. Your blanket goes everywhere you go.
God knows you're not proud of this, but you have been caught dragging your duvet into the bathroom in the dead of night in an effort to stay warm.
You know it's gross, but so is a baltic bathroom.
12. You don't trust cinemas.
While you may initially take off your coat in order to fit in with everyone else, you waste no time dragging it back up over you once the lights begin to dim.
And there was that time you brought your hotwater bottle to see The Revenant because you knew that scenery was more than flesh and blood would be able to stand.
DailyEdge is on Instagram!