TWO MALE PENGUINS are awaiting the birth of their adopted chick at Faunia Zoo in Madrid.
According to The Telegraph, Inca and Rayas have been waiting for six years to raise a chick of their own, so in an effort to promote the survival of the species, zoo staff have given the couple an egg to incubate.
Gentoo penguin Inca has been taking care of the egg for the past month, while Rayas prepares to take over the role of feeding the baby once it is born.
The couple, who live in Faunia's Polar Ecosystem, have been together for a number of years.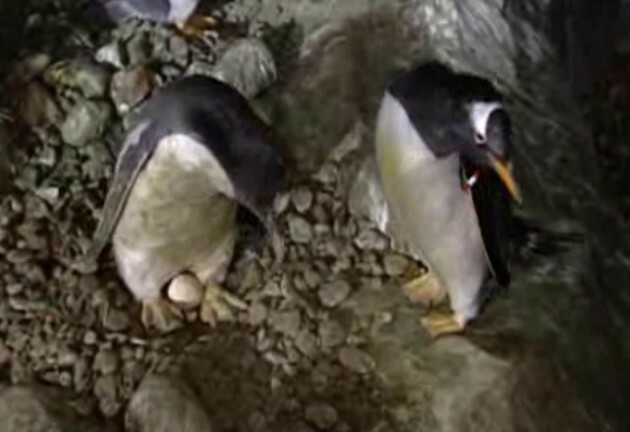 Inca and Rayas mind their adopted egg. Image via this video from Publico TV
Keeper Yolanda Martin said that zoo staff were concerned that the pair may have become depressed without a baby to care for.
According to the zoo's website there were four Gentoo chicks born in August 2011, who by October had begun to gain their independence. Preparations are now underway in anticipation of the new arrival.
Last year Toronto Zoo wasn't quite so welcoming of a same-sex penguin couple when staff there separated  a male couple so that they could mate with females.
Buddy, one of the Toronto Zoo penguins then went on to get a 'girlfriend'.