tumblr / red nose day tumblr / red nose day / red nose day
LAST NIGHT THE first of a series of GBBO specials for Comic Relief aired on BBC One, and what a treat it was on a bleak February night.
Dame Edna Everage, Lulu and the hilarious Ab Fab duo Jennifer Saunders and Joanna Lumley were put to the baking test by Mary Berry and Paul Hollywood, and it was a simply delightful hour of telly.
From Dame Edna's frankly cack handed attempts…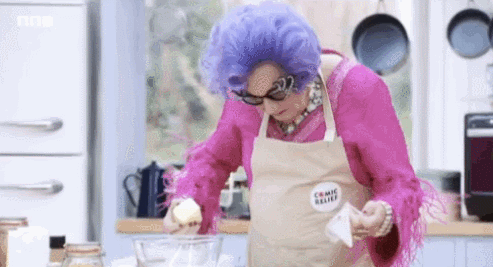 To her comedy quips…
From Joanna Lumley BEING Patsy…
To Jennifer Saunder's Lulu death stare…
And Mary Berry's delightfully diplomatic comments…
It really was a joy to behold…
If you can wangle your way around the BBC iPlayer the episode is here.
Next week's episode features Jonathan Ross, Zoella, Gok Wan and Abby Clancey.