FEEL LIKE YOU'RE going to have to wait until you're dead to find a decent partner? Is your current love-life DOA?
Well, your search has just got a little easier. Get an afterlife and get on the departed dating scene. GhostSingles.com is at your service.
It's simple to join, just enter your usual details, as well as your floating height, build (wispy, airy, ethereal etc) and death-date to ensure your perfect match is waiting at the other side.
Who knows who you could meet?
Dead_stud isn't into getting physical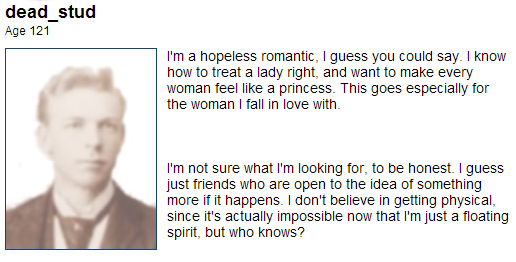 Phantom4u is like SO BORED out there scaring old people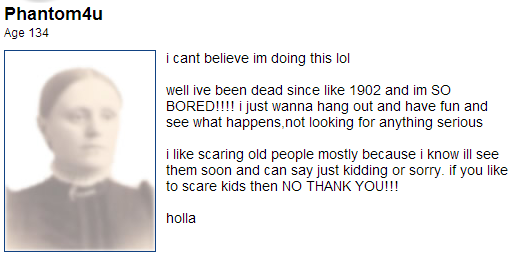 Poor lonely4ever, throw her a PM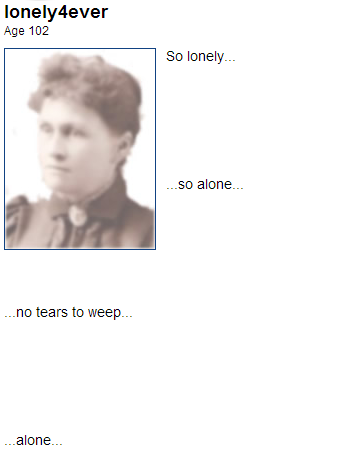 This one sounds like she'd be a bunch of laughs, at the ripe old age of 173
No one tickling your fancy? Sure who knows who'll be popping up in the future.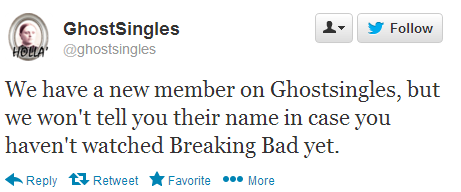 Listen, you'll take what you can get when you're dead.
The website also posted some helpful dating tips that all ghosts should consider before diving into the dating experience.
There's even a chat function. There's absolutely not excuse to be a lonely single ghoul.
Get ahead of the game and head on over to GhostSingles.com to find your spiritual soul-mate.
These guys did, and now look at them.
h/t to Buzzfeed