NOBODY PANIC, BUT a mysterious giant hole has been discovered in a remote part of Siberia.
The area's name, Yamal, translates as the 'end of the world' – and it holds some of the country's largest gas reserves.
We said don't panic.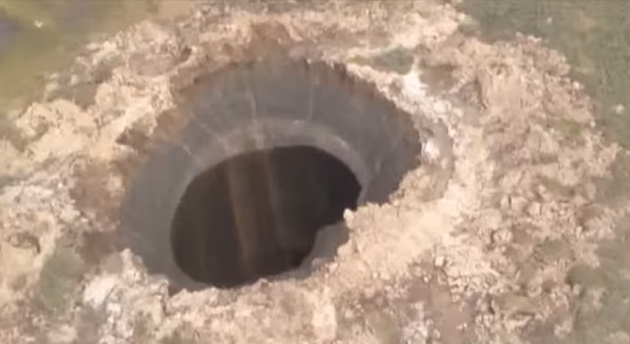 Youtube Youtube
The Siberian Times reports that scientists are investigating the crater, believed to be up to 80 metres wide. It's not yet known how deep it goes. Shudder.
Researchers are as yet unsure what may have caused it but there's speculation that it could have been made by a meteorite hitting the earth, or an underground explosion.
Footage shot from a helicopter shows it to be dark, deep, and uncannily like a gateway to hell:
Bulka / YouTube
Russia's Emergency Ministry has ruled out a meteorite, but say it's too early to know what caused the crater.
Anna Kurchatova from the Sub-Arctic Scientific Research Centre thinks the hole was formed by an underground explosion as a result of global warming.
She says gas may have accumulated in ice mixed with sand and salt – when the ice melted, it caused an explosion "like popping a champagne bottle".
As long as they don't start 'popping' up everywhere we'll be fine. We hope.
emimusic / YouTube