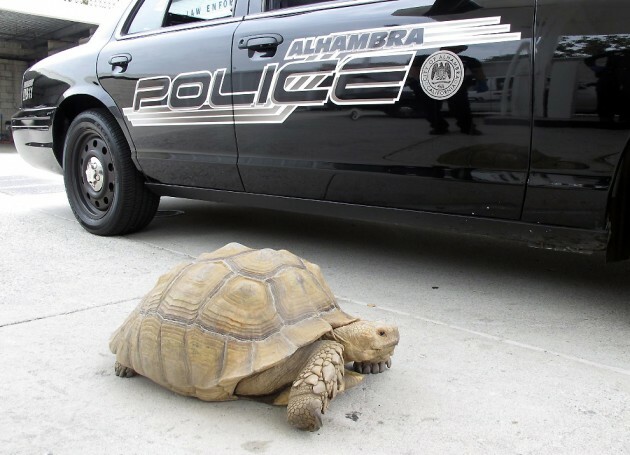 ASSOCIATED PRESS ASSOCIATED PRESS
KEEPING THE PEACE is a tough job. You have to arrest people, question criminals, organise raids and drug busts, and chase giant tortoises. Yes, it's in the job description. Can't you read?
The Los Angeles police were called to deal with an escaped giant tortoise, which was spotted ambling down a street in the city's suburbs.
The Alhambra Police Department says a local family claimed the 150-pound pet reptile, named Clark, yesterday afternoon.
It took two officers to heft the creature into a patrol car so they could turn it over to animal control authorities.
Facebook Clark the tortoise Facebook
The department posted photos of Clark on its Facebook page in hopes of finding the owner and detailed their daring 'pursuit' of the reptile.
The owner came to claim the tortoise after seeing the post on Facebook, and the police were happy to reunite him with his 'human family'.
It's actually illegal to own a giant tortoise in the US, but the officers say they "enjoy keeping families together" and decided to let this one slide.
No word yet on how far the tortoise had gone from home when it was caught.