EIGHT YEARS AGO Louisa Manning suffered daily at the hands of her bully and his friends.
They mocked her appearance, her weight, her "monobrow" and her "hairy legs". They called her "manbeast" every day for three years.
Fast forward to 2014 and Louisa is a college student who just got asked out by the guy who used to torment her.
And she burned him. She burned him good.
She accepted his dinner invitation and then instead if showing up, she asked the waiter to give him this: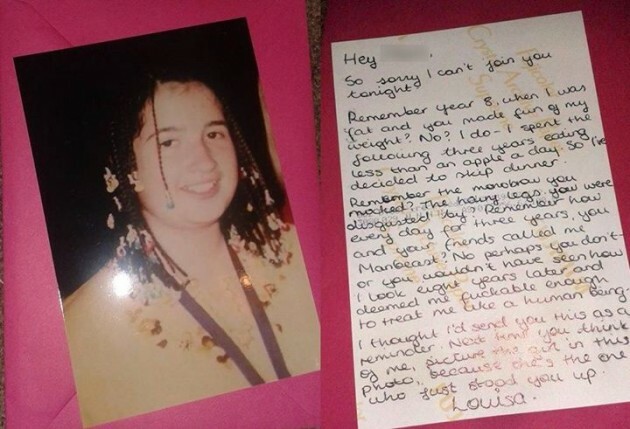 Facebook Facebook
It reads:
Hey -

So sorry I can't join you tonight.

Remember year 8, when I was fat and you made fun of my weight? No? I do. I spent the following three years eating less than an apple a day. So I've decided to skip dinner.

Remember the monobrow you mocked? The hairy legs you were disgusted by? Remember how every day for three years you and your friends called me Manbeast? No perhaps you don't or you wouldn't have seen how I look eight years later and deemed me fuckable enough to treat me like a human being.

I thought I'd send you this as a reminder. Next time you think of me, picture the girl in this photo, because she's the one who just stood you up.

Louisa.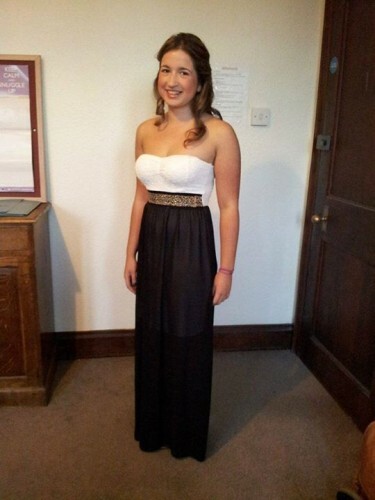 Facebook Louisa in 2014 Facebook
Manning told Buzzfeed that she met her former bully at a university ball (she goes to Oxford) and he asked her out via Facebook.
She says he has since apologised to her. Sending her a message on Facebook he said that he hadn't asked her out because she was good looking, but that he just wanted to try to make some new friends.
He said he's a completely different person now and wished her every success.