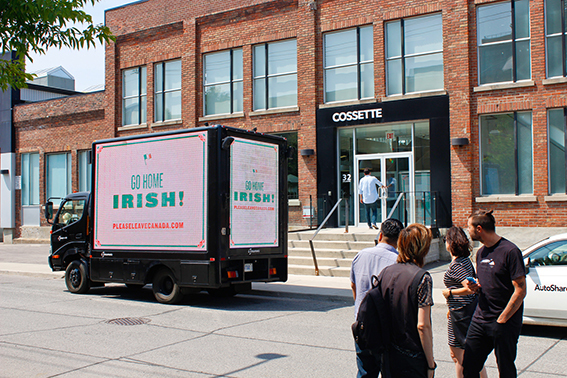 The Social House The Social House
THE ABOVE AD has been spotted driving around the streets of Toronto in recent weeks – and it reads "go home Irish!" and links to the website pleaseleavecanada.com.
It turns out that the website in question redirects to the hompeage of an ad agency in Dublin – who have this message for Irish emigrants: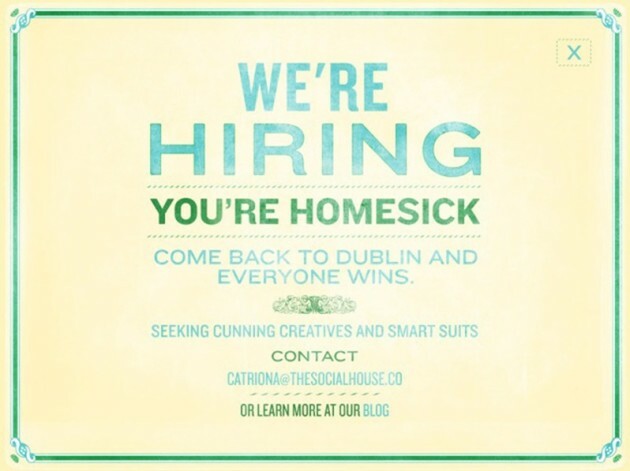 The Social House The Social House
The Social House is an ad agency that set the whole thing up as a recruitment drive to hire new employees. Speaking to DailyEdge.ie about the reaction it has got, the agency's Colin Hart said:
People who get it think it's hilarious. We've got loads of people messaging us saying that it's smart and well done.
We want to bring good people back from Canada, Australia and all over – so it was done to promote a bit of a reaction.
The agency works on some of Paddy Power's campaigns – which might make people more familiar with the controversial tone. It's a novel way of getting the Irish in Toronto's attention, anyway:
We specifically knew there was about 20 people working in good ad agencies in Toronto so we hired one admobile and had it go around to each of them. If we had the money we would have went to Sydney, Melbourne, Vancouver and all over.
But they probably knew they would get some negative reaction? 
Yeah, we got a few people really aggressively emailing us saying it was rude but it's incredibly nice when you take the time to click into the site. They just didn't investigate. It's an honourable thing. We didn't want to do a simple recruitment ad, we're trying to do exciting work.
The fact that the agency has already received over 25 applications for the jobs from outside of Ireland certainly proves that the word is well and truly out there.
Their blog post explaining the ad probably sums its intentions up perfectly when it says:
We want you to come home. Not as much as your mum, but still.
Mammies across Ireland are probably on board.