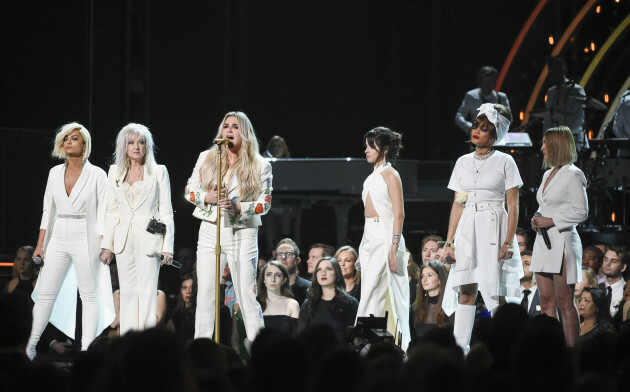 SIPA USA / PA Images SIPA USA / PA Images / PA Images
BRUNO MARS AND Kesha had the biggest talking points of the Grammys last night – Bruno for winning basically every award, and Kesha for delivering an extremely powerful performance.
There was lots of other stuff happening in between, though. Let's catch up.
1. Cardi B was typically honest about how she was feeling on the red carpet
Evan Agostini / PA Wire Evan Agostini / PA Wire / PA Wire
Last night was the rapper's first outing at the Grammys, and she told E! News' Giuliana Rancic exactly how it was going:
I'm feeling good. I'm feeling nervous, overwhelmed, everything. Butterflies in my stomach and vagina.
Specific!
2. Miley Cyrus and Elton John performed Tiny Dancer
Vulcan Kinetics Raptor Rescue / YouTube
Ignoring Anna Kendrick's cringey 'tiny dancer' joke in the intro, this was a delight.
3. Hillary Clinton showed up to 'audition' for the Fire and Fury audiobook
The Late Late Show with James Corden / YouTube
Host James Corden had a host of celebrities read excerpts from Michael Wolff's bestseller, including Cher, Snoop Dogg… and Hillary. Eeek.
4. Blue Ivy told her ma and da to calm the hell down
Can't see the gif? Click here.
Beyoncé and Jay Z clapped for just a small bit longer than she wanted them to, and she let them know. Little madam!
5. Tony Bennett wouldn't move out of the way to let Rihanna accept her award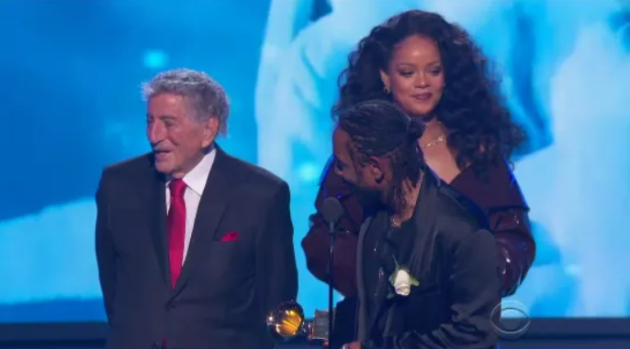 CBS CBS
Rihanna took to the stage with Kendrick Lamar to collect the award for their song Loyalty – crooner Tony Bennett was presenting the award, and just… stood in front of her as she was trying to get to the mic. Tony! Gee up!
6. Lorde had a bit of a stinkface going after Pink's performance
Can't see the video? Click here.
Those tiny baby claps… Maybe her hands were sore.
7. The comedians who didn't get Best Comedy Album were comforted with puppies
Twitter / Miguele3Miguel Twitter / Miguele3Miguel / Miguele3Miguel
Has Jerry Seinfeld ever been happier?
8. Bruno Mars and Cardi B performed the ray of sunshine that is Finesse
Super Netvid / YouTube
Between winning six awards and doing this, we'd guess he had a very good night.
9. John Legend mortified Chrissy Teigen by talking about their toilet on the red carpet
John:
We were having a transition from a regular toilet to a Japanese toilet that washes your butt and opens itself…
Chrissy:
E! News E! News
10. Dave Chappelle popped up during Kendrick Lamar's song with some thoughts
JJ Allure / YouTube
Lamar's six-minute performance featured cameos from Bono and The Edge, along with comedian Dave Chappelle, who appeared to say a few lines in the middle:
I just wanted to remind the audience that the only thing more frightening than watching a black man be honest in America is being an honest black man in America.
11. And Kesha got a big group hug from all her backing singers after her cathartic performance of Praying
Can't see the video? Click here.
Wonderful. And that's it all done now for another year…
DailyEdge is on Instagram!