1. Here's what €1,400 a month will get you on Dublin's North Strand.
Daft Daft
There's a sofa, but very little leg-room.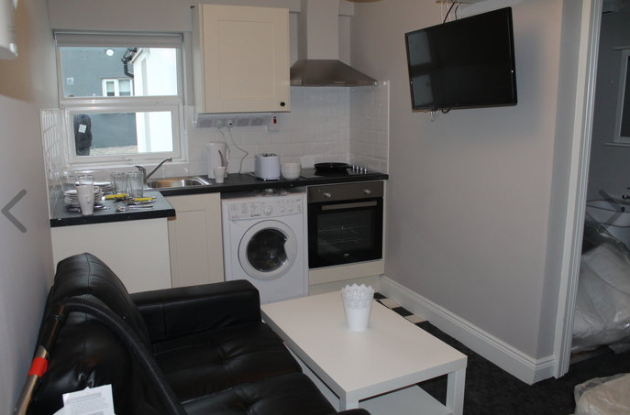 Daft Daft
Then there's a tiny peek at the bedroom area.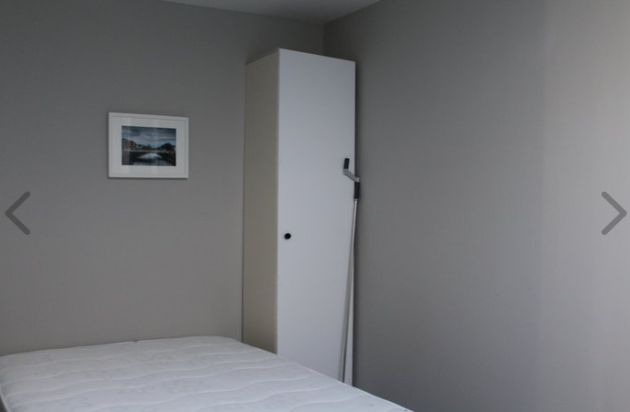 Daft Daft
And that's it. Two rooms. No photographs of the bathroom. All of that for €1,400 a month, or if we want to get really grim, that's €16,800 a year. There are three of these flats for renters to take their pick from, which means that somebody out there is going to be raking in €50,000+ a year from renting out these properties.
Whoever they are, they were kind enough to reduce the price of the property by €50 last month.
Daft Daft
Yet for *some* reason, these three flats still haven't been snapped up. Weird, huh? Might be something to do with the fact that you could get an entire apartment near public transport outside of the city for a similar price.
2. For €750 a month, you could live like Lana Del Rey.
Only in the sense of the line from her song Cola where she says 'I fall asleep in an American flag'.
Daft Daft
This flat is on Camden Street. It's not clear whether or not the Christmas decorations are a permanent feature.
3. For €675 a month, you can have access to three different washing machines in Lucan.
Daft Daft
And a communal kitchen with two ovens.
Daft Daft
It's like the full student accommodation experience, just for grown adults who work full time. The bedroom is complete with a Celtic Tiger armchair.
Daft Daft
And a private microwave.
Daft Daft
It doesn't say how many people live in this building, but it's clearly enough to necessitate three washing machines and driers.
4. For €850, you can sleep beside a microwave in Santry.
Daft Daft
The only good thing is that the light switch is right beside the bed, so you don't need to get up to turn the lights off before you go to sleep. However, it was probably not put there to make life easier, but rather because there's literally nowhere else you could fit a single bed in that room.
5. This studio apartment in Stillorgan will set you back €925 each month.
A decent distance from Dublin's City Centre, this property looks quite promising at first. A nice big shower with some fresh subway tiles.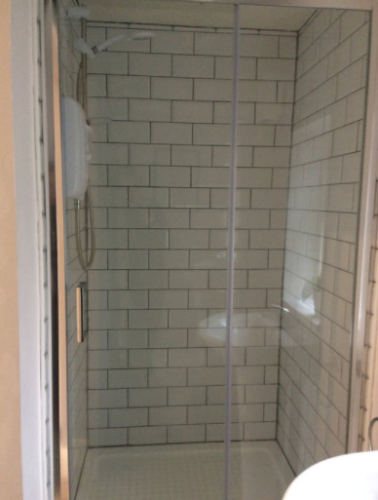 Daft Daft
A modern kitchen, with new appliances (they all even have the stickers on them!).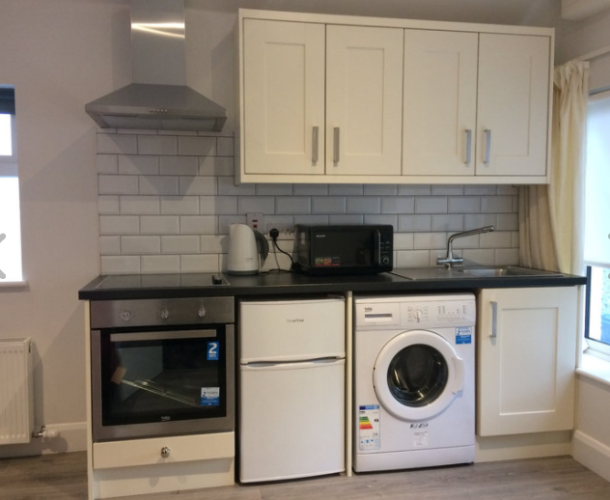 Daft Daft
Alas, subway tiles can't fix everything. The catch here is that you have to sleep on a sofa.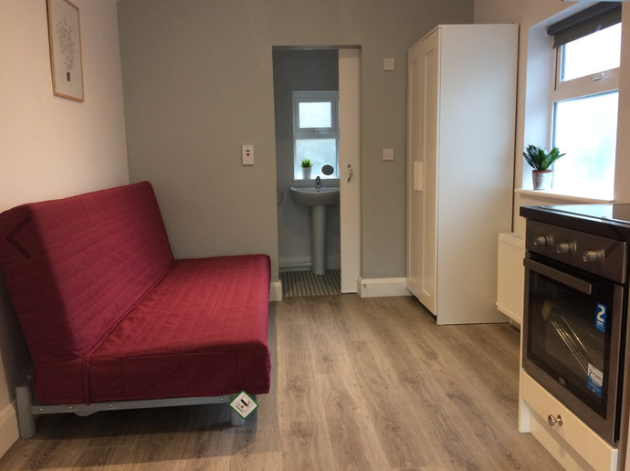 Daft Daft
Nobody in this country should be spending €925 every month (or €11,100 a year) to sleep on a couch at arm's distance from their oven. To prove that you can be trusted to sleep on this couch, you need to provide references from previous landlords.
6. €700 a month will get you this room that resembles a storage unit in Fairview.
There's just a load of furniture randomly chucked in here with seemingly little consideration.
Daft Daft
Nobody would recommend sitting that close to a TV. Guaranteed to get square eyes. You might be fooled into thinking that fold out sofa is actually the bed. For once, it's not.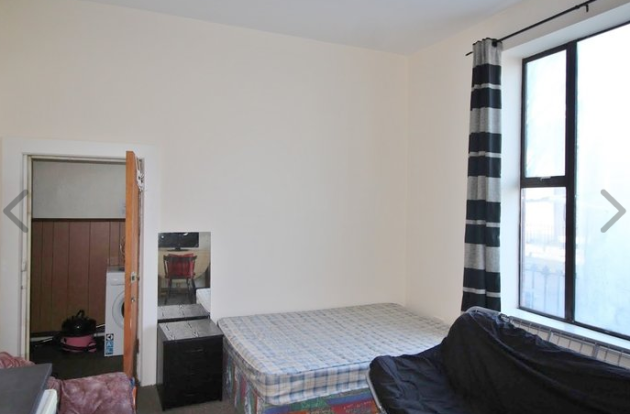 Daft Daft
So why bother squishing that sofa bed in? And that armchair? This room would be significantly less frustrating to look at if it didn't contain all of these random and unnecessary pieces of furniture.
The real highlight of this property is the artwork in the bathroom.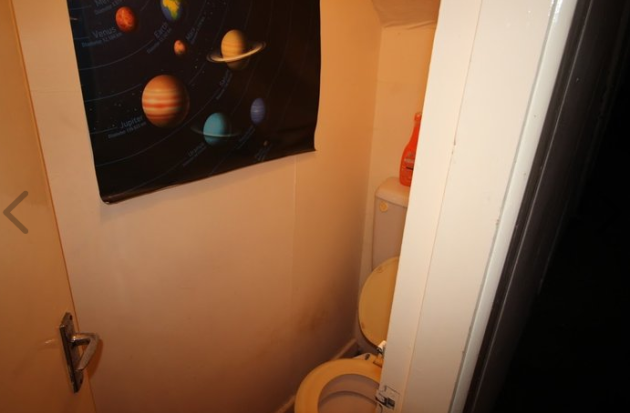 Daft Daft
A poster of the solar system in the jacks. Why not?
7. In Portobello, we've got a property where every photo looks like when you're taking a selfie in a public bathroom and a stranger walks into the room.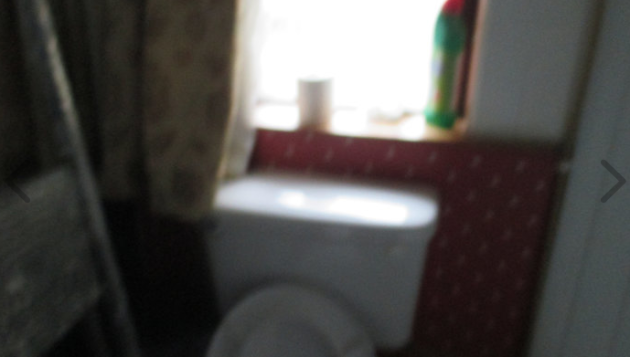 Daft Daft
Seriously.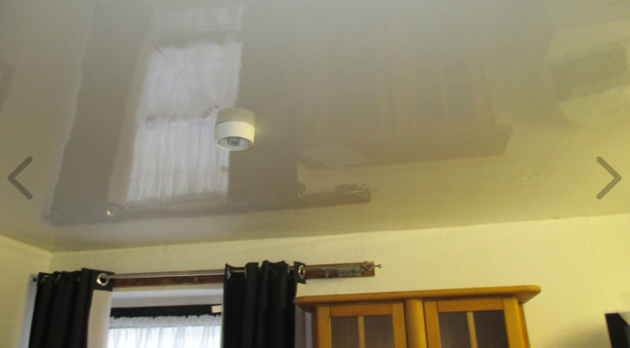 Daft Daft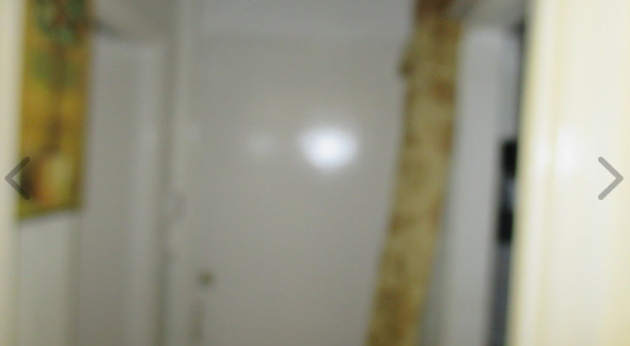 Daft Daft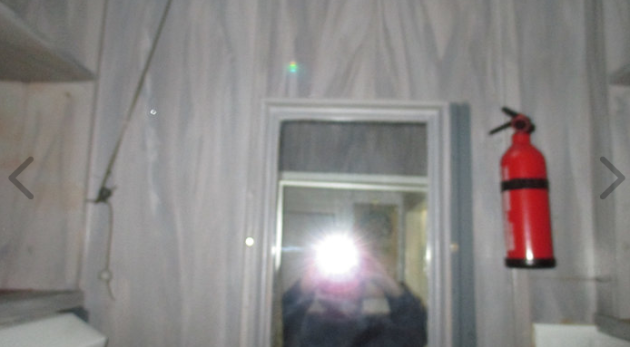 Daft Daft
All of that for €780 a month. With those photos, I don't even want a viewing. I'll take it. Here's a deposit and six months rent in advance.
8. This cabin in the Dublin mountains costs €790 a month.
Daft Daft
It's recommended for people who are "looking to save a deposit to buy a house or just to get away from the rat race". With €790 going towards rent every month, how much is anybody going to manage to save for a mortgage? Then the person advertising the property also adds "The house is off the beaten track so would suit somebody who drives".
Add car insurance, tax, petrol etc to the monthly cost of living here and the concept of saving for a mortgage becomes a mere pipe dream. Let's take a look inside to see if it's worth forking over nearly €10,000 a year to live here. Here's the master bedroom: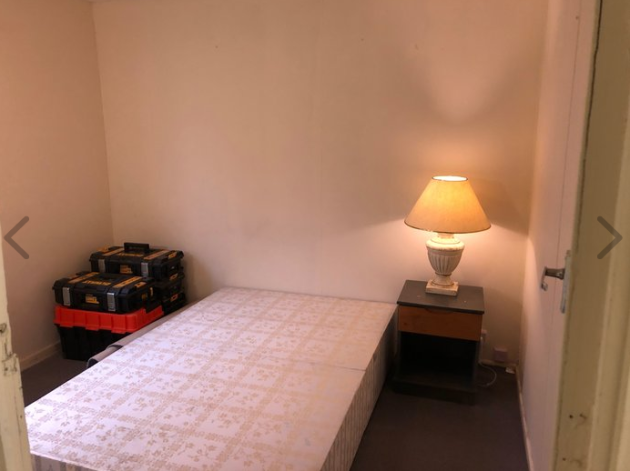 Daft Daft
A bedside table made of toolboxes. Interesting concept. The kitchen kind of looks like something you'd see in a youth club, but it's definitely not the worst we've ever come across. Sure it has a full sized fridge. What more could you want?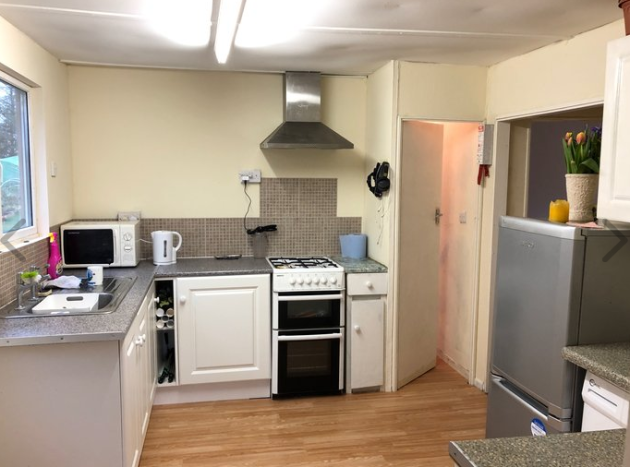 Daft Daft
9. This property on Dorset Street costs €940 a month.
Daft Daft
You're probably thinking "Hey! That's actually lovely. What's wrong with that?" Well, the problem is that this accommodation is for students only. What student has €940 a month to blow on rent?
To earn €940 in a month on minimum wage, you'd need to work 24 hours a week. And that will only cover rent – not clothes, not food, not books, not college fees or photocopying and printing, not pens and pencils. Nothing. Only rent.
So this is probably a great setup for rich people who can allow their adult children to live like Zoey 101, but the reality is that this is very depressing for the vast majority of students.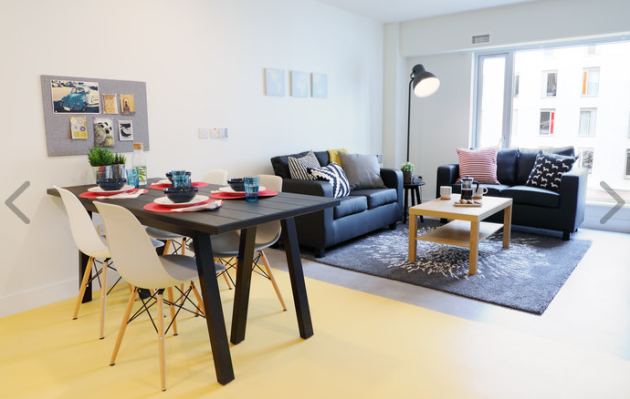 Daft Daft
It's recommended that students work 10-15 hours a week. Anything more than this is detrimental to their studies. Yet, there are plenty of Irish students working in excess of those hours. Many of these students could never dream to have €940 to spare for rent in one of these luxury student accommodation buildings.
10. For €820 a month you could have a bunk-bed in Ranelagh.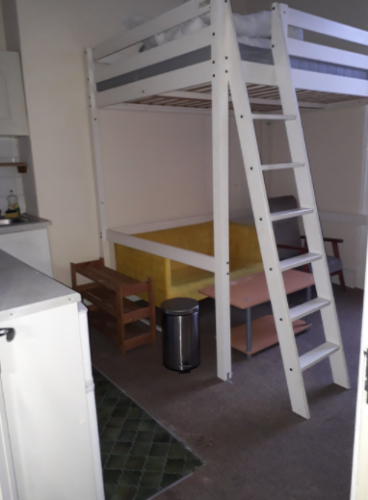 Daft Daft
The person advertising this property goes out of their way to inform us all that there is no damp or mould present. There's also no wifi either.

Daft Daft
In 2018, you could pay €820 a month to sleep in a bunk-bed and have no wifi. If you get arrested and sent to prison, you can go asleep in a bunk-bed with no wifi for free. Mountjoy Prison is in a pretty central location too.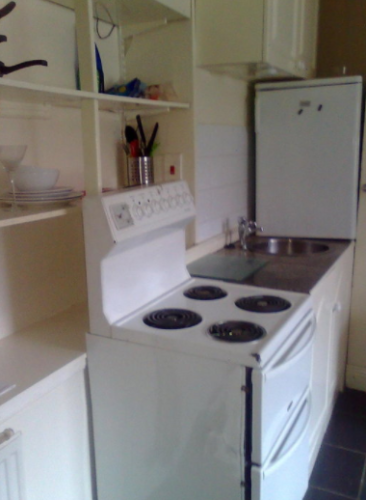 Daft Daft
For some reason, there are two photos of kitchen facilities, so it's not really clear which one you're going to end up with.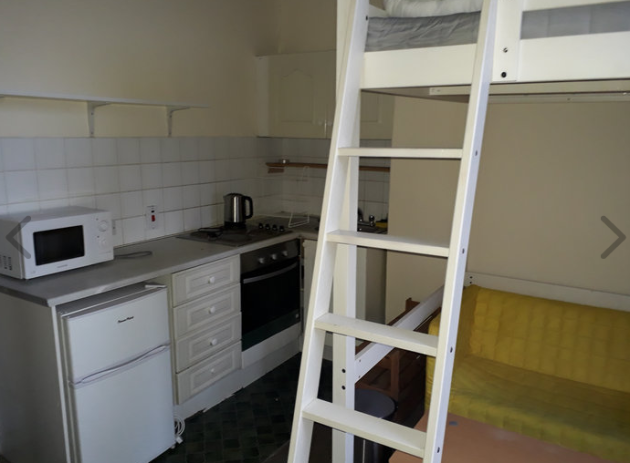 Daft Daft
Fingers crossed it's the one with the microwave.
11. For €850, you can live in this gigantic attic in Lucan.
Here's the living area.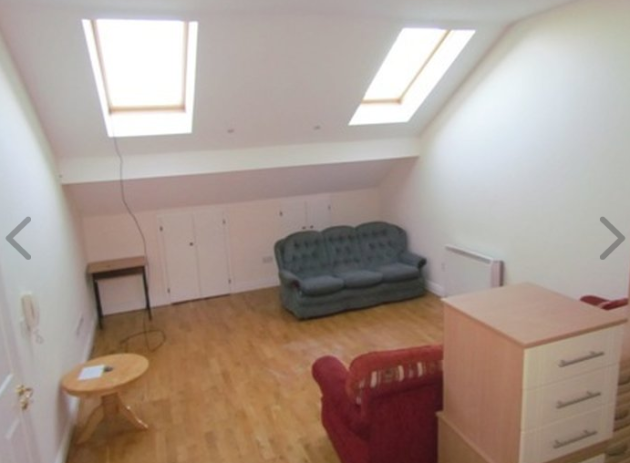 Daft Daft
And beyond the precariously stacked drawers, we've got the bedroom and kitchen.
Daft Daft
It's definitely more spacious than a lot of the other offerings, yet it's still quite unappealing. It looks like a small PE hall full of old furniture.
12. For €1,100 you could get your very own bedroom in Saggart.
Daft Daft
However, there's a bed in the kitchen/living/dining room and no explanation for it. Do you have to go down and make a bowl of Shreddies while a roommate sleeps in the corner of the kitchen?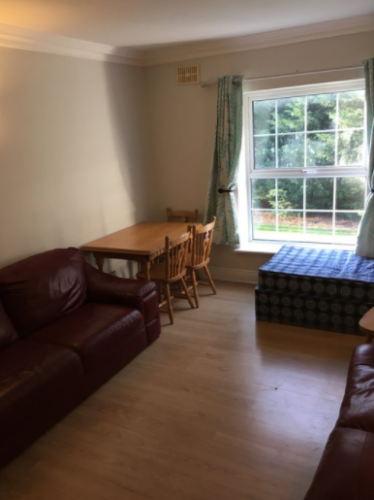 Daft Daft
13. This 'double bed' flat in Rathmines costs €1,300 a month.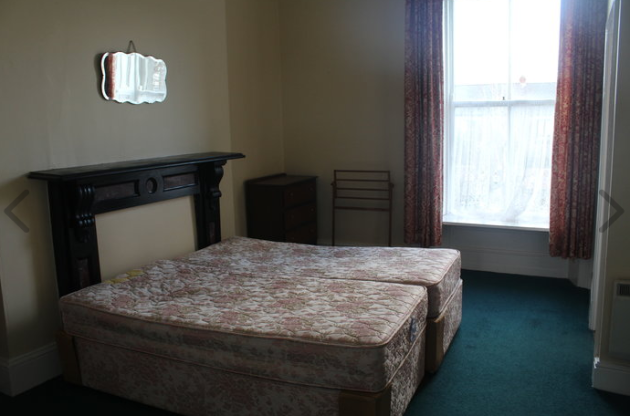 Daft Daft
Just be careful when you lie in the middle of the bed. The living room/kitchen is pretty standard for the Dublin rental market. Just some couches squeezed in anywhere they might fit, and a break between carpet and tiles to create the illusion that some kind of boundary between the two rooms.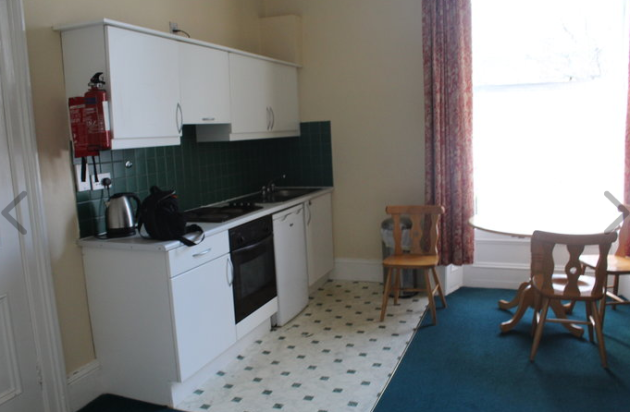 Daft Daft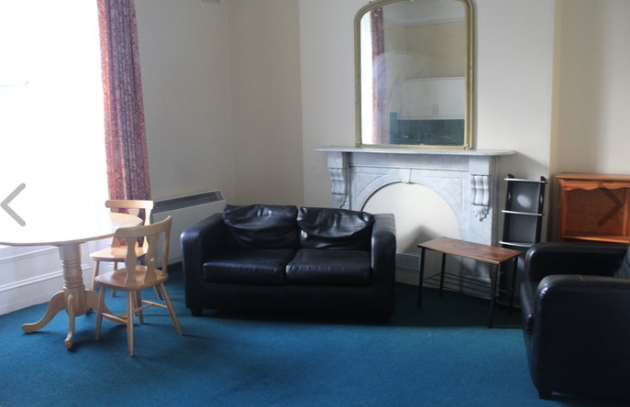 Daft Daft
 14. €700 a month will get you a sofa to sleep on in Santry.
Sofa. Sofa bed. What's the difference? Neither are intended for long term use.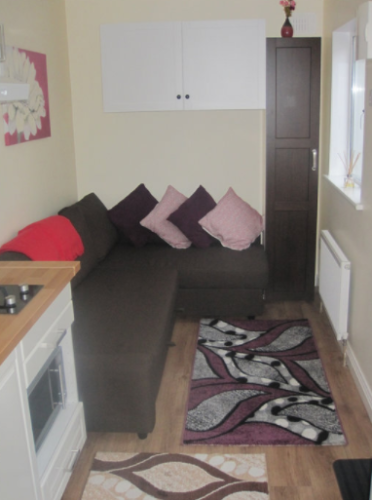 Daft Daft
At the food of the sofa bed, we've got the kitchen and bathroom.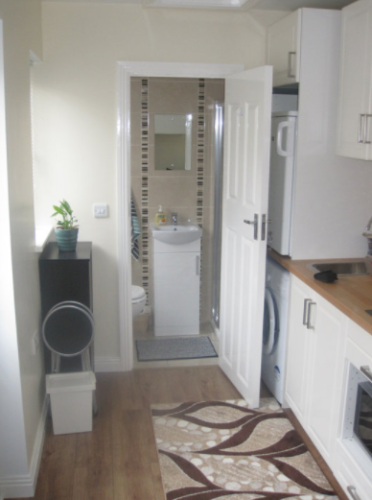 Daft Daft
This is like living in a hall, with all of the mod cons.
15. For €1,400 in Phibsborough, you could sleep here every night.
Daft Daft
That's if you don't get dibs on the other bedroom, which comes complete with a towel on the curtain rail.
Daft Daft
The ad says that the property is suitable for 4 people despite the fact that it has two double beds, so really, it's only suited to a couple who knows another couple they'd be willing to live with. If you're single and don't know any couples, prepare to split the rent 4 ways with some good friends who you'd be willing to share a bed with every night.
If all of that didn't depress you enough, you can look at all of the other sad properties we've discovered by clicking here. 
DailyEdge is on Instagram!