THOSE DASHES THROUGH Tesco will never be the same again now that the sweets are removed from the tills.
But it's just one of the many bad decisions we make during the big shop.
1. Picking up junk at the till (you'll still manage it)
Whether it's discounted pastries in the evening or one of the millions of varieties of Percy Pigs lining the check-out, 'healthy shops' are immediately abandoned once they're spotted. Sure they're THERE and self-control is simply asking too much of anyone.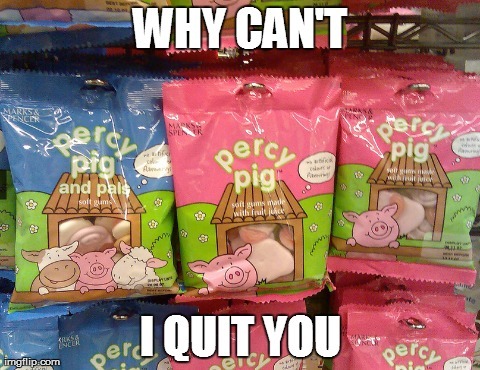 Mark Hillary Mark Hillary
2. Eating while shopping
If you can't resist a packet of crisps while waiting for a till number to be called out, how on earth can you walk through a few aisles without cracking open that bottle of coke? It's always paid for at the end like, last time we checked, this was a free country.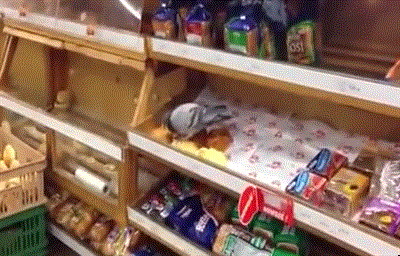 3. Buying stupid offers you don't need
Um, there's two for one on nappies but you don't have a baby. But doesn't someone, and they'd be glad of them. Buy six. Free wok with purchases of 17 boxes of own-brand rice? We're gonna need a bigger trolley.
Barnorama Barnorama
Heaven is a place on earth.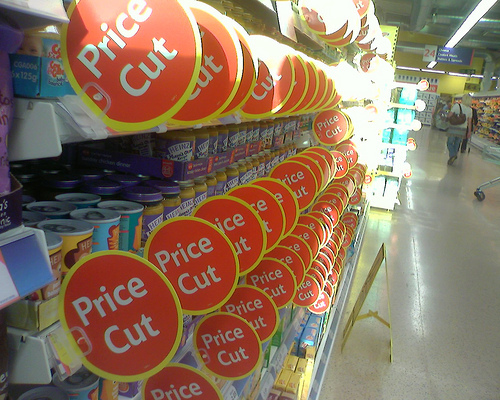 Craig Murphy Craig Murphy
4. Dressing appallingly
We draw the line at pyjamas but there's something about going to the supermarket that excuses wearing that stained tracksuit and unsightly footwear usually reserved for lounging around the house. Just prepare to bump into everyone you know, every time.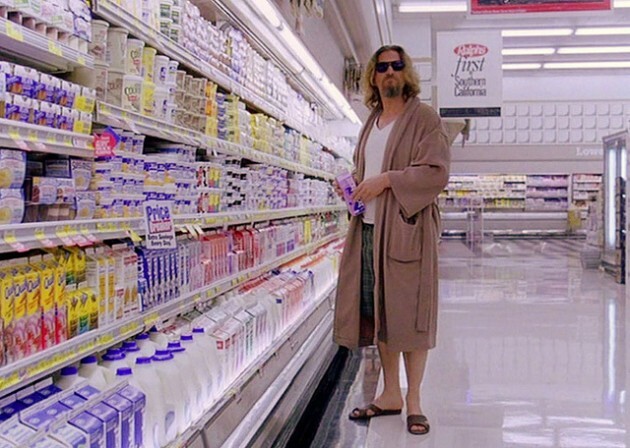 Podbean Podbean
5. Avoiding people in the aisles
You had an awkward run-in with your sister's friend in the condiment aisle and now you're kind of synced with her and will cross paths at LEAST six more times unless you make a radical diversion. You do, and spend the next hour wallowing in the fact that she knew.
Shutterstock Shutterstock
6. Leaving stuff on the wrong shelf
You've had second thoughts about that fruit basket once you reach the cake aisle. You can't be bothered going all the way back so just plonk it there, grab the double chocolate fudge gateaux and DASH. And yes, your suspicions are true. The security men saw you on camera and are sitting around tutting in disgust.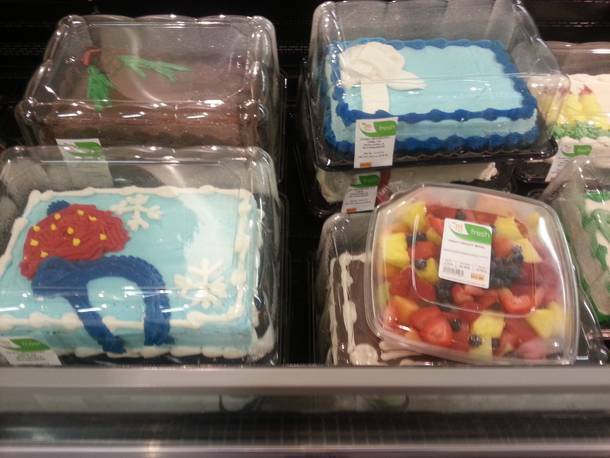 Memeguy Memeguy
7. Forgetting something half-way through check-out
You're checking out. "Oh I forgot milk," you say, before running off to the furthest depths of the known universe to retrieve a carton. The queue extending down the aisle behind you hate you, but not as much as the embarrassed till attendant. Not to mention the loved ones you left behind.
You didn't even put out the divider, just leave.
Mark Scott Mark Scott
8. Leaving crap in the trolley
Finding abandoned cartons or offer leaflets in the end of the trolley is the WORST. Worse than abandoning it in the middle of a parking space.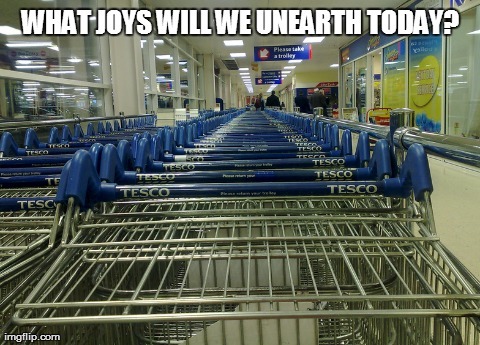 Mark Hillary Mark Hillary
9. The samples loop
The Holy Grail, a tasty samples table. You conveniently forget something and take a detour to pass it again once you're certain the server has probably forgotten you.
She remembers.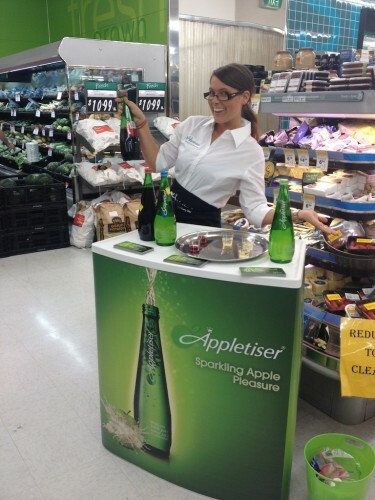 Brandspanking Brandspanking
10. Getting enraged by the self service check-out
For the last time, THERE IS NO DAMN BAG IN THE BAGGING AREA.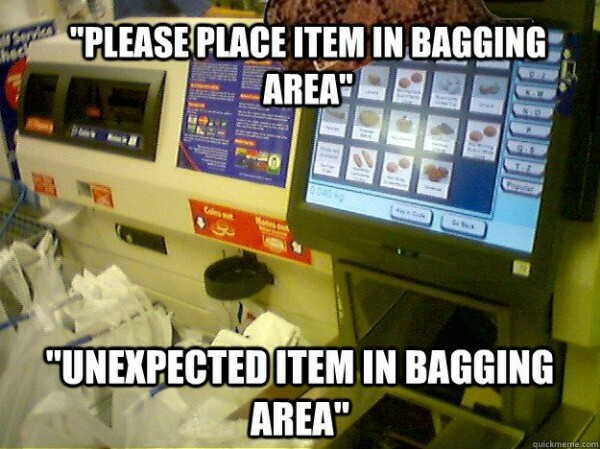 Funnyasduck Funnyasduck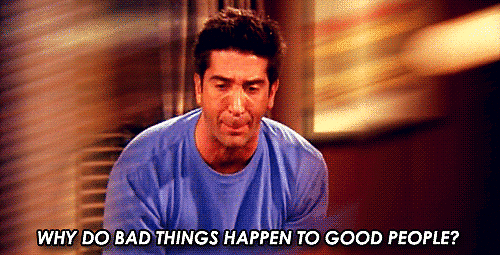 11. Bringing 11 items to the 10 items or less till
Sure it's only one more, isn't it? That's grand and all but it's still one more than THE LIMIT. Chaos, havoc, what if everyone did it etc.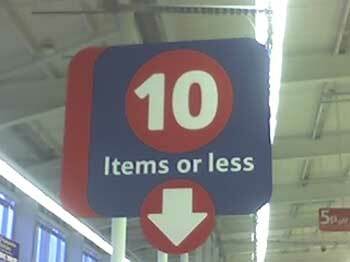 Humoroutcasts Humoroutcasts
12. Forgetting bags
You're happy to spend a fiver on a pint but have to part with 15c for a bag and the guilt is crushing. Oh well, all the more stuffing for the bag press.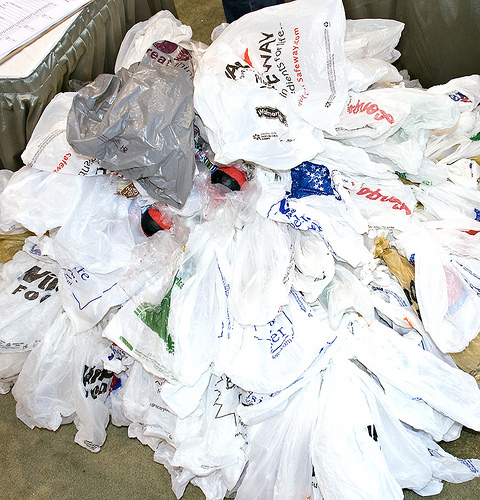 swanksalot swanksalot