IF YOU'RE ON the lookout for a new job… keep looking.
Y'know, unless you're in to this kind of thing.
A mysterious painter has put out a call on Gumtree for a lady to pose for them in Mullingar. You'll be paid 25 quid an hour for your troubles, and they're open to 'all sizes'.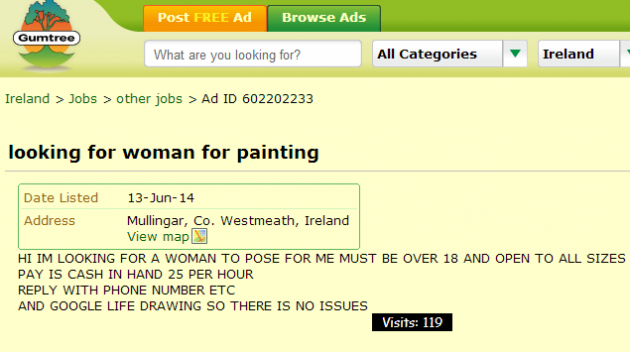 HI IM LOOKING FOR A WOMAN TO POSE FOR ME MUST BE OVER 18 AND OPEN TO ALL SIZES
PAY IS CASH IN HAND 25 PER HOUR
REPLY WITH PHONE NUMBER ETC
AND GOOGLE LIFE DRAWING SO THERE IS NO ISSUES
We know, can't believe someone would advertise cash-in-hand so blatantly.