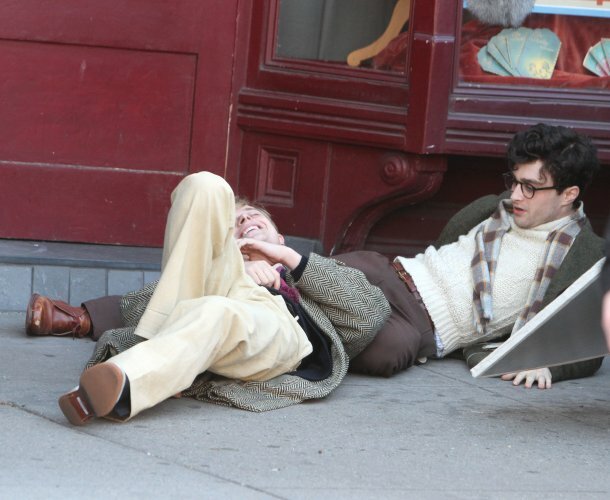 Here's Daniel Radcliffe. He's not drunk on Jagerbombs though. He's filming Kill Your Darlings in Brooklyn. (PBG/PBG/Empics Entertainment)
#BUTTERBEER Daniel Radcliffe wasn't able to work his magic on staff at a New York bar after he got kicked out following a 'discussion' with the DJ about Dusty Springfield songs. (New York Post)
Radcliffe is in New York filming Kill Your Darlings, and it seems he simply had to hear Son of  a Preacher Man or I Only Want to be with You while on a night out.
The DJ was having none of it, and neither was Daniel. The DJ won.
No more butterbeer for Potter!
#HAYLOR Yesterday was Taylor Swift's birthday, and her new fella Harry Styles from One Direction got her 23 cupcakes to celebrate and brought her home to meet the family.
The company he bought the buns from has now 'gone global', and the woman who made them has said she went a bit funny when Harry showed up to collect the cakes. (Warrington Guardian)
Could Haylor be any more adorable? They've been papped all over the gaff holding hands and being sound to fans. (E Online, Daily Mail)
Apropos of nothing, Taylor also has a new video out today:
YouTube/Kldrauhl Oreo
#CRUISE CONTROL Apparently Tom Cruise's house keeping staff are told where they can and can't go in his home, and he runs his pad with 'military precision'. (Radar Online)
The Cruiser also uses Scientology tests when he's hiring new staff, with questions like:
If you saw a car stuck on the train tracks with people inside, and a train approaching, what would you do?
Er, get out the hoover? Wash the car? (Inquisitr)
So, how are you at washing dishes, and saving people from cars? (AP Photo/Andres Kudacki)
And the rest of the day's dirt…