He's still wearing those ridiculous trousers. It's hardly a reason to kill him though. (AP Photo/The Canadian Press, Sean Kilpatrick)
#JUSTIN TIME Police in the US have intercepted a plot to murder and castrate Justin Bieber.
OUCH!
A man whose serving 978 years in prison for rape and murder hired two men to carry out the deed in New York a few weeks ago. (Telegraph)
Dana Martin is obsessed with Bieber and has a tattoo of him on his leg. One of the men hired to carry out the deed was arrested after police confronted Martin about the plans. (E Online)
#HAYLOR Taylor Swift and Harry Styles have taken their first mini-break together.
They've been photographed in the Lake District town of Bowness ahead of Taylor's 23rd birthday today.
They posed for photos with locals and did a lot of shopping in the Beatrix Potter nursery shop. (Daily Mail)
OH MY GOD YOU GUYS THAT MUST MEAN SHE'S PREGNANT!
Or maybe they just know someone who has a baby, but let's go with the pregnancy thing because that's much more interesting. We're off straight after this to merge Harry and Taylor's faces to see what the sprog would look like.
#LES MISERABLES Anne Hathaway has said she's devastated after she was photographed with no knickers on at the Les Mis premiere in New York.
Paps got the shot as she climbed out of a car wearing a tight black dress, and she's said she "may as well have lifted up my skirt for them". (Heatworld)
She also said during an interview with Today that she was:
Very sad that we live in an age when someone takes a picture of someone in a vulnerable moment and rather than delete it and do the decent thing, sells it.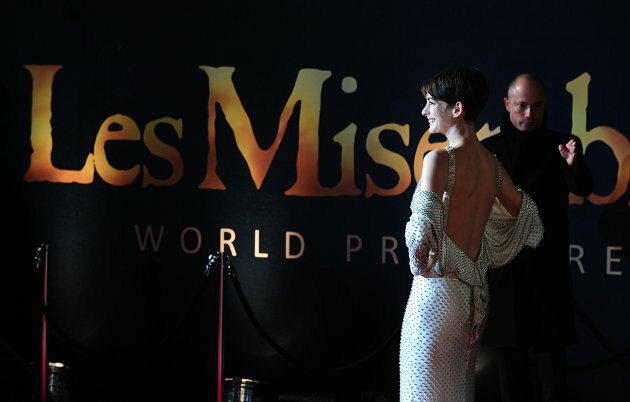 Anne Hathaway, who showed the world her Britner. (Ian West/PA Wire/Press Association Images)
And the rest of the day's dirt…
Amanda Seyfried has said she has a drink before every talk show appearance. Hic. (Buzzfeed)
Alex "sex dungeon" Reid has been reunited with his baby daughter Dolly (Daily Mail)
Are Rihanna and Chris Brown doneso again? A series of tweets from Ri Ri would certainly indicate that she's kicked him to the kerb (E Online)
Courtney Love is not amused by the Macca/Nirvana hook up (HuffPo)
Victoria Beckham was cringing away at the Viva Forever aftershow party as her former bandmates danced to their own hits. Morto for ALL of their mas for having them (The Irish Sun)