THE FRY UP is a well-loved and integral part of the Irish diet, to be sure, but this is just making us uncomfortable.
Yes, a breakfast so big and so greasy that customers have to sign a waiver before eating it.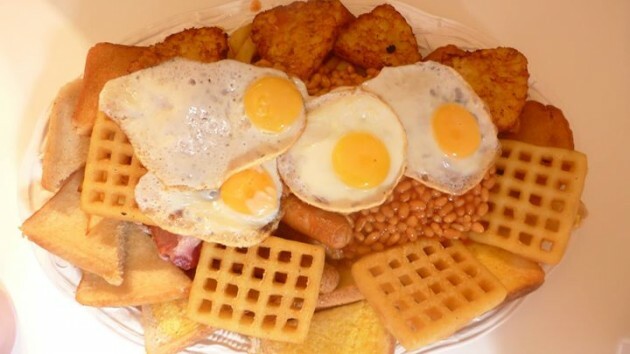 Facebook Facebook
The excellently-named Bear Grills café in the town of Congleton, near Manchester, holds a Man Vs Bear eating challenge with a meal called The Hibernator.
For the price of £19.95, you can feast upon an 8000-calorie meal of:
8 sausages

8 rashers

4 fried eggs

4 hash browns

4 pieces of toast

4 black puddings

4 pieces of fried bread with butter

4waffles
1 four-egg and cheese omelette
Mushrooms
Beans
Tomatoes
Chips
And, the pièce de résistance, a giant strawberry milkshake topped off with whipped cream.
Here are all the ingredients laid out:
And here they are served up.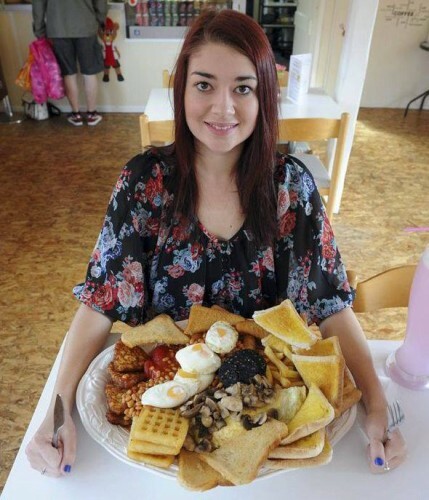 Facebook Facebook
Anyone who finishes the whole meal within a half an hour gets their money back, a special t-shirt and a place on the café's Wall of Fame. Fail, and your name goes on the Wall of Shame.
This is what the Wall looks like as of 12 September:
Facebook Facebook
Do you think you could hack the Hibernator? Be honest. We're sick just thinking about it.
h/t Metro