THIS IS THE product of a complex interlinking of 11 year old's relationships – told through the medium of a class note.
You see, Alex was not very happy with Payton, and the teacher came across the note she had written for him: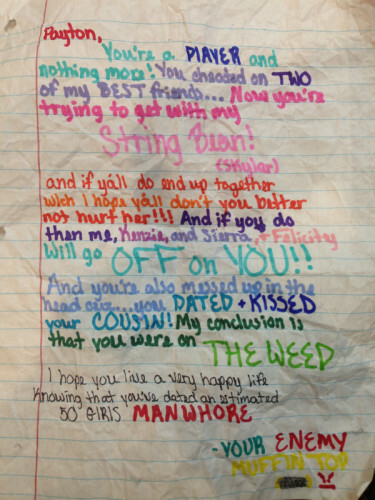 imgur imgur
Shared to Reddit by a friend of the teacher yesterday, he confirmed that Alex (aka Muffin Top) and Payton are 11 and that Kenzie, Felicity and Sierra are indeed real life characters.
The full letter, which details Alex's true squad goals, reads:
Payton,
You're a PLAYER and nothing more! You cheated on TWO of my BEST friends… Now you're trying to get with my String Bean! (Skylar)
And if ya'll do end up together – which I hope you don't – you better not hurt her!!
And if you do then me, Kenzie, Sierra and Felicity will go OFF on YOU!!
And, you're messed up in the head because you DATED + KISSED your cousin! My conclusion is you were on THE WEED. I hope you live a very happy life knowing that you've dated an estimated 50 girls. MAN WHORE.
Your enemy, Muffin Top
Well, that took a turn for the dark pretty quickly.
But still, Payton seems to have got himself into a bind by carrying on in the one classroom – he only has himself to blame.
Young love <3