A FEW WEEKS ago Canada's Commander Chris Hadfield took control of the International Space Station.
He's been on board the ISS for several months and will stay there until he returns to earth in May.
Commander Hadfield's son Evan (who was 7 when his Dad was accepted onto the astronaut programme) coordinates his social media presence.
He told DailyEdge.ie that the work he's doing with his father now is one of his favourite moments of his Dad's career:
It is amazing to be so connected to what is going on with him, while still old and educated enough to do my part to help.
He also told us a few things about his Dad's life as an astronaut, both on earth and in space, starting with his current Internet connection…
1. "It would be akin to someone in 1998″
Commander Hadfield has gained a massive following on Twitter and Facebook through his near-constant updates about life aboard the ISS and his ultimate bird's eye view from his seat above the earth.
"Tá Éire fíorálainn! Land of green hills and dark beer. With capital Dublin glowing in the Irish night". Cmdr Hadfield tweeted this image in February.
He's also participated in one of Reddit's Ask me Anything sessions, several chats with school children back at home, and has made a series of YouTube videos showing how things are accomplished in zero gravity.
Evan Hadfield told DailyEdge.ie that he emails his father all the time…
…but the Internet isn't speedy. It would be akin to someone in 1998 or so. Streaming YouTube simply isn't possible, but sites like Twitter, email, Reddit, news articles and other mostly text-based applications work just fine.
2. What does Commander Hadfield miss most about earth?
Apart from family and friends, the astronaut misses a comfort that many of us would never consider a luxury:
A hot shower. Because of water rationing on station, the best that he can get at present is a sponge bath with no-rinse shampoo. His greatest wish upon returning to Earth is a nice hot shower.
3. "You quickly learn as the child of an astronaut to keep it a secret for as long as you can"
While Evan and his family are hugely proud of his achievements, he said that being the son or daughter of such a high-profile figure can be difficult.
You learn quickly as the child of an astronaut to keep it a secret for as long as you can. People will always judge you by it, and instead of just being a person, you become the son of a person or the daughter of a person.
Usually your friends and acquaintances will spread it for you anyway, so there isn't much need for you yourself to mention it.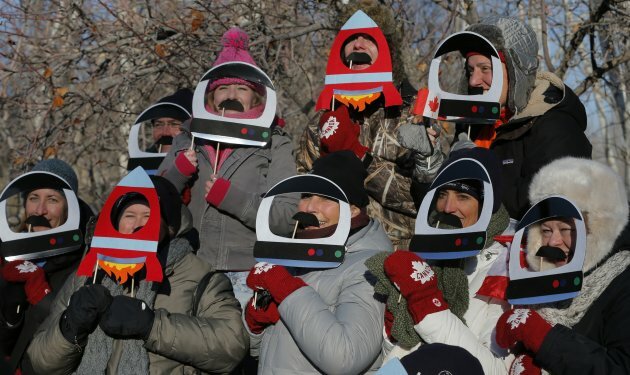 Relatives and friends of Chris Hadfield prior the launch of Soyuz-FG rocket at the Russian leased Baikonur cosmodrome, Kazakhstan, December 2012. (AP Photo/Dmitry Lovetsky)
4. The Hadfields are Ireland fans
Chris Hadfield's daughter Kristin is currently living and studying in Dublin and according to Evan she speaks very highly of her time here and will probably be here for some time to come.
Our entire family have been out to visit her in Ireland, and we've all found it to be a very warm (figuratively, not literally) country, with great people and a lovely landscape.
5. And Commander Hadfield will be paying another visit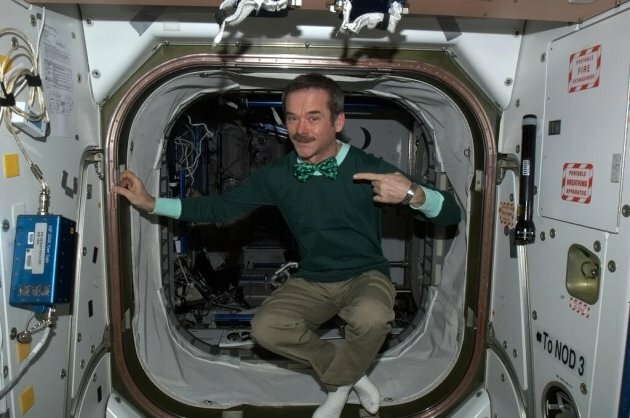 Commander Hadfield tweeted this image on St. Patrick's Day, and recorded his own version of Danny Boy.
The Irish have been extremely dedicated to his tweets and very pleasant in response to his efforts. I see no reason at all why he wouldn't visit Ireland upon his return.
The exact date, however, will have to be decided at a later time. Right now it is complicated just keeping on top of what is coming up this afternoon.
6. He's not too worried about something bad happening
Evan Hadfield said that he's not overly worried about the dangers of his father living on the ISS:
That is a bit like spending your entire time driving worrying about what will happen if you crash. Problems are better solved when they actually happen, with good preparation to make sure they don't. I have every faith in his capacities to protect himself and his crew, and make the right decisions if the situation arises.
7. The commander plays in an Irish/Celtic music band back at home
Musician is a big part of Commander Hadfield's life. He brought his guitar into space with him and has taken part in a number of collaborations with artists like Barenaked Ladies and The Chieftains:
YouTube/TheChieftains
Evan told us:
The collaboration with the Chieftains is the brainchild of his bandmate and astronaut coworker Catherine (Cady) Coleman. He plays in a number of bands on Earth (mostly astronaut related), including an Irish/Celtic band.
He loves folk music, and always has. If I had to guess who his favourite band/singer was, I would say it is likely the Canadian folk singer Stan Rogers.
Commander Hadfield has also had an earth-space conversation with Captain Kirk himself, William Shatner;
YouTube/CanadianSpaceAgency
8. What does Commander Hadfield enjoy most about his time on the ISS?
According to his son the astronaut's favourite thing about his current role is the ability it gives him to connect to the whole world. He says his father has been "humbled by how great the reaction has been among the public of so many nations":
He is constantly pleased when people tweet him nice messages, happy when he gets the free time to respond, and thrilled to wake up and find more people following and interested in what he's doing.
If you want to follow him you can do so at @Cmdr_Hadfield