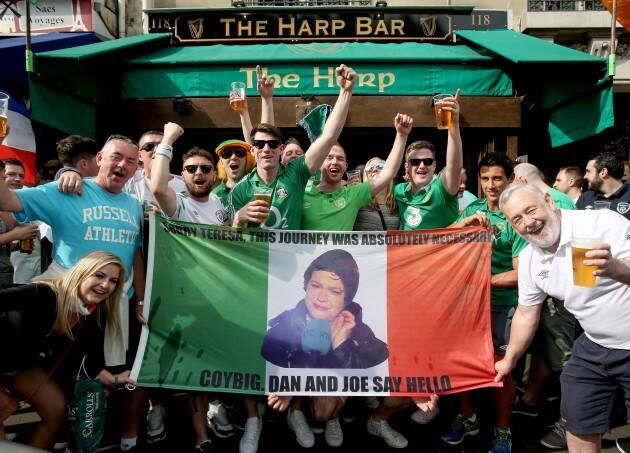 James Crombie / INPHO James Crombie / INPHO / INPHO
IRELAND DIDN'T QUITE find their flow in Bordeaux yesterday. But for the fans, that just hasn't been an issue.
1. When these fans changed a flat tyre for two French pensioners
In full flag rig-outs, no less.
2. When a group of fans came across Jay, who was in tears because he'd lost his ticket… so the strangers got together and sorted him out
3. When the Green Army took it upon themselves to single-handedly export Father Ted gags to the whole of Europe
4. Yes, even Lourdes.
5. When Maniac 2000 was finally, gloriously brought to the population of France
Via an entire Paris street.
6. When these guys kicked off the greatest ever Dancing Queen singalong and it was somehow… genuinely moving?
Irish & Swedish fans team up to perform the greatest version of #Abba 'Dancing Queen' #IRL #SWE #COYBIG #EURO2016 pic.twitter.com/7U01kfO6ux

— Eoghan Doherty (@dohertyeoghan) June 13, 2016
7. When Ireland's true national inspiration was given the credit he deserves
8. When the excitement got so much, Teresa Mannion (aka Ireland's other national inspiration) tweeted her own meme
9. When this matador dance became the best possible way to express international solidarity
10. When the fans stopped at nothing in their quest for cultural references no other country would understand
11. Seriously.
12. When the guy with the beard knew he was on the national news
I'm so glad I witnessed this moment #EURO2016 pic.twitter.com/daKkoyWynK

— Quinton O'Reilly (@qoreilly) June 12, 2016
13. And when that one fan, in full leprechaun outfit, stood up for the Boys In Green
Our fans have been the real winners at the Euros, even when the Boys In Green are struggling to find their flow. For the biggest wins and most awe-inspiring fails daily with an Irish twist, check out our dedicated DailyEdge Win/Fail zone – brought to you by Lucozade. Here's what you'll find there. Find out more on Lucozade's Facebook page. 
LucozadeIreland / YouTube