KATE DOYLE MOVED from Waterford to Perth in 2011 – and has been working there as a veterinary nurse ever since.
The clinic she works at takes in all sorts of different animals, but she's become known for applying the loveliest personal touch for dogs post-surgery:
"All the patients that usually require bandages are having a major surgery and that worries the families so I always try to make them smile with my handmade bandages"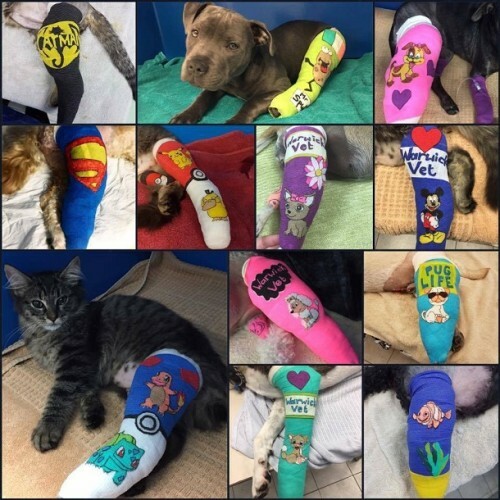 Kate Doyle Kate Doyle
Kate hand draws patterns, colours and characters on to casts to make everyone – especially the kids – feel a little more upbeat, as she tells DailyEdge.ie:
I feel it helps make the surgery not feel so daunting.
Given her love of animals, if a stray is brought in to the clinic Kate will often take them home and foster them until a suitable family can be found.
And that's what happened with little Moe in April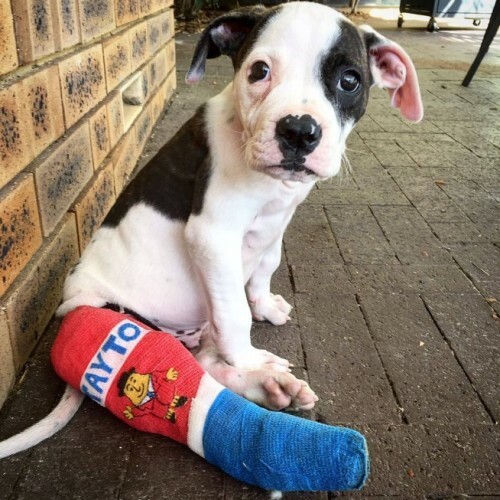 Kate Doyle Kate Doyle
He was in a bad way when Kate discovered him in work:
He had a fractured pelvis and a badly fractured leg he was very badly malnourished on arrival my heart melted when I saw him and I knew he was coming home with me.
So his first bandage design was, appropriately, Tayto – because Kate had full control over that one. But she also tailors the designs depending on the circumstances:
The reason he got Tayto was because I'm Irish and I thought it was funny. Generally I will find out if the patient lives with kids and what age group they are to try and make something appropriate for them that they will like.
<3
She's been with Moe for nearly a month now:
"This was the night I took him home"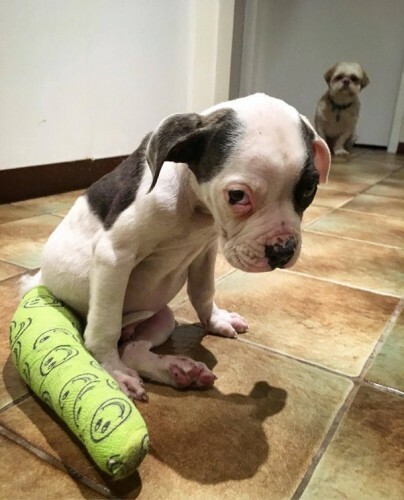 Kate Doyle Kate Doyle
She can go a little more close-to-home with the references if the people happen to be Irish:
A while ago I had an Irish client in so I drew a cartoon potato and wrote Mr Spud – the client got a great laugh off it.
Brightening up everyone's day with some lovely drawings – this is going above and beyond
Kate Doyle Kate Doyle
Kate combines her love of two very different things with these little projects:
I did some art in school many years ago and have painted on and off since – doing these bandages brings my love of animals and art together.
She has an Instagram page dedicated to those in her foster care so people can keep up to date with Moe, Moon and anyone else who happens to be staying with them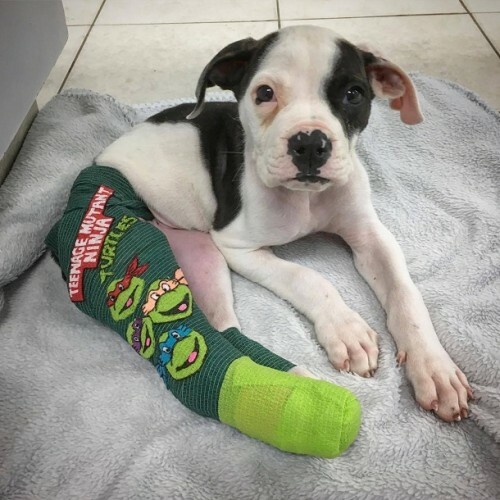 Kate Doyle Kate Doyle
Moe is still not out of the woods yet, but he's in the best possible place:
We still may have to amputate his leg but he's attending physio twice a week to try and save it.
And to all the post-surgery dogs that pass through Kate's care, they're bound to leave the clinic looking that little bit more colourful with their new casts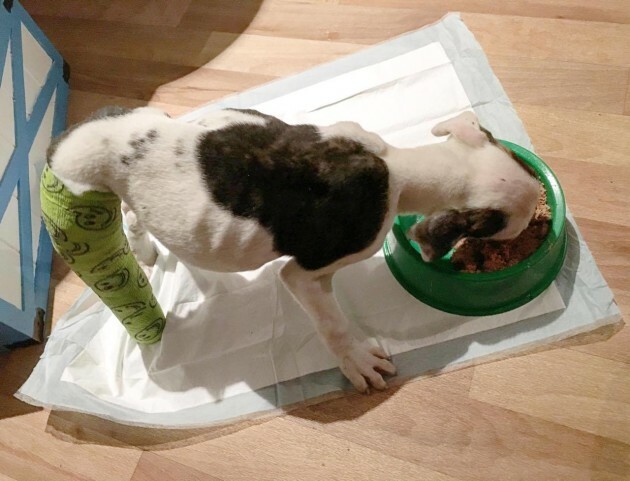 Kate Doyle Kate Doyle
Much nicer than a plain old white bandage when the kids welcome them home.
hat tip Buzz.ie
DailyEdge is on Snapchat! Tap the button below to add!