Taryn Keith / Facebook Taryn Keith / Facebook / Facebook
FINALLY! PROOF THAT the world isn't so bad after all.
On Sunday, Houston woman Taryn Keith shared the following image of a $750 tip her boyfriend received the night before.
The message on the tip reads:
Hopefully this can get you back to Ireland for the holidays.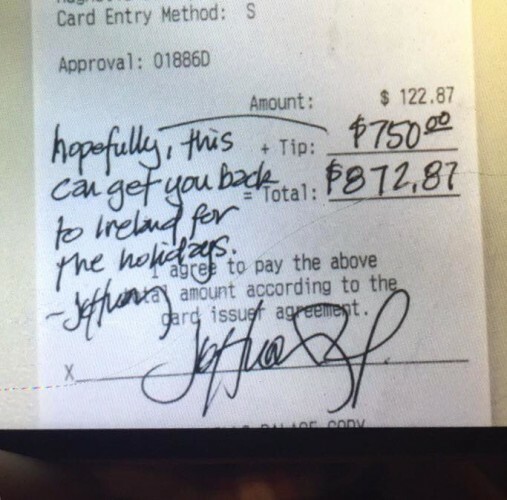 Taryn Keith / Facebook Taryn Keith / Facebook / Facebook
In her Facebook post, Keith explained that her boyfriend Ben is Irish and that the pair are hoping to visit Ireland after their baby is born.
My boyfriend got this tip last night at work. He's from Ireland and is trying to take us back there once Killian is born so we can meet his family. Thought I would share it to show everyone that's there is not only hate out there. Truly blessed.
The heartwarming story has since gone viral after it was picked up by Love What Matters, where it earned over 94,000 likes.
Keith explained to DailyEdge.ie that her boyfriend is from Belfast and has been living in the United States for over a year.
Let's hope they manage to get home with baby Killian, eh?
DailyEdge is on Snapchat! Tap the button below to add!