JAMES ARTHUR IS not having a good month. A lover of a good Twitter feud, the 2012 X Factor winner has angered a LOT of people with a homophobic 'diss' track.
Since discovering the track, Hey Mickey, some buyers have been asking for a refund on his recently released album. According to an email posted on Twitter yesterday by @Louieloodle74, an iTunes store representative seemingly agreed to her refund request as she was offended by the singer's homophobic lyrics.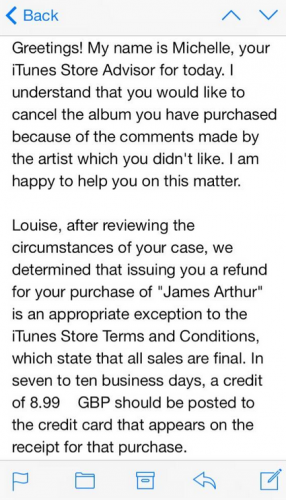 Hey Mickey has since been widely criticised for the use of homophobic slurs, including comedian Frankie Boyle. You know you've gone wrong when Frankie Boyle gets offended.
He jumped to his own defence on Twitter, saying that:
Any offence I have caused by using the term 'queer' in my rap battle with MC Worthless. would just like to make it completely clear that it was not meant in anyway as a reference to homosexuality. I realise where the term has come from in meaning. but used in the context of the rap battles I have grown up with it has come to mean something completely different. That said, I understand why it could cause offence and that definitely wasn't my intention.
Well it seems it was too little too late, with the abuse driving the singer to leave Twitter.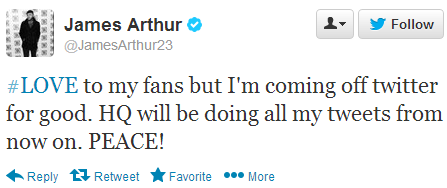 A big factor was fellow X Factor contestant Lucy Spraggan who posted text message exchanges between the pair after Arthur expressed his annoyance at her calling him out on Twitter.

The now deleted tweets paint a very damning picture of Arthur indeed.
Oh James.