THE WORLD OF celebrity Youtubers is awfully confusing to anybody who doesn't regularly check in on it.
There are countless people on Youtube with millions of subscribers who are making an absolute fortune. One of the most notable Irish people on Youtube is a gamer called JackSepticEye.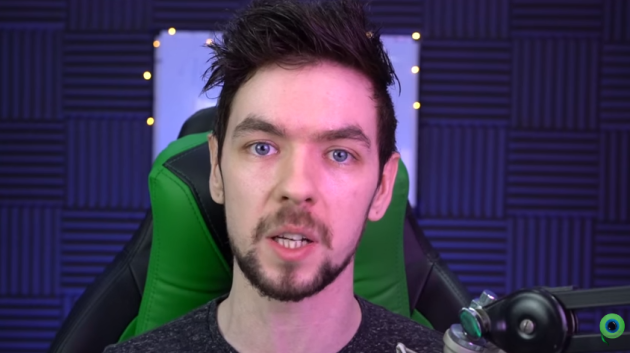 Jacksepticeye / Youtube Jacksepticeye / Youtube / Youtube
His real name is Sean William McLoughlin and in 2014, he shot from having 1,500 subscribers to having 1.5 million. In the four years since, he's managed to increase this even further. He now has 18 million people subscribed to his Youtube channel, which has left him with a fortune of around €7.3 million. Yeah, seriously.
Like most Youtube channels, this channel definitely does not appeal to everyone. But those who are fans, are pretty hardcore fans.
jacksepticeye / YouTube
Last night, McLoughlin made an appearance on RTÉ's Late Late Show.
RTÉ RTÉ
He explained to Ryan Tubridy that his main gimmick is shouting and cursing in an Irish accent. That's pretty evident if you watch any of his videos.
If the video won't play, click here.
He also explained what he does in some simpler terms for the many viewers who were confused about why this man has more subscribers on Youtube than Beyoncé and Adele.
The main thing I do is play games, as you saw in the little snippet that was up. I don't play them very well, but I try my best. I do vlogs here and there and bits of 'slice of life', but mainly it's just me reacting to stuff that happens in video games and trying to make it as entertaining as possible. People watch that, I guess.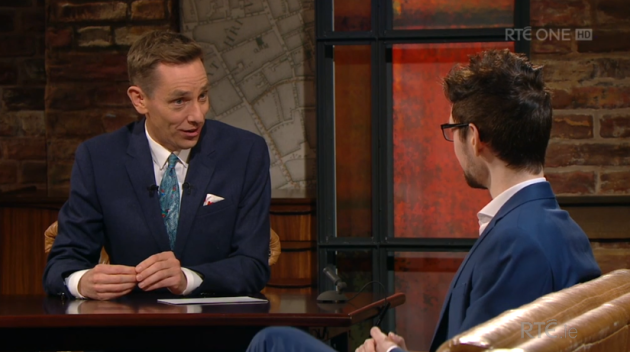 RTÉ RTÉ
Ryan told Sean McLoughlin that The Late Late Show had been inundated with requests from parents looking to get their kids a seat in last night's audience. Countless children were dying for the opportunity to meet McLoughlin. One lucky 14-year-old got to do just that.
Jane Anne O'Sullivan from Cork burst into tears when she was given the opportunity to ask JackSepticEye a question. Ryan and the Youtuber invited her up on stage to join them in an attempt to calm her nerves.
If the video won't play, click here. 
When the starstruck youngster eventually got her bearings, she asked for advice on how to remain positive when she's feeling overwhelmed.
He told her:
For anybody it's different, everyone enjoys different things, everyone gets overwhelmed by different things in their lives. For some people, this is overwhelming. You're doing fantastic by the way. I think it's about just taking your time with everything. It's easy to think that everything's on top of you and that the world's going to collapse on top of you if you don't figure out this thing right now that's happening.
RTÉ RTÉ
Whatever you enjoy, if you enjoy movies, anime, games, whatever you like, boybands, listen to them, watch them, do what you like. One piece of advice my sister gave me today was to 'keep it in the day' to not overthink things, to get too far ahead of yourself.
The video, which was shared on Twitter has since gotten 3,000 retweets and almost 14,000 likes. Many of which were from JackSepticEye's international fanbase, and other Youtube stars.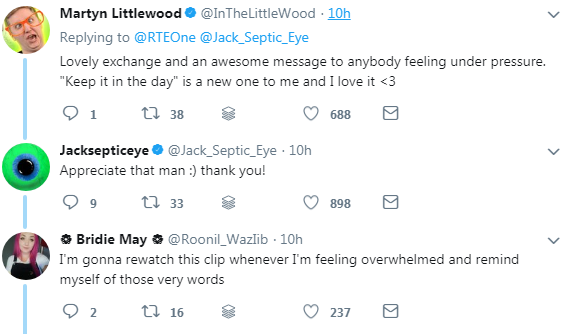 Twitter Twitter
Jane wrote on Twitter that it was the best day of entire life, and JackSepticEye's fans expressed their happiness for her.

Twitter Twitter
If all of this hasn't made you feel old and out-of-touch enough yet, JackSepticEye is also heading on a tour of the US soon.
DailyEdge is on Instagram!