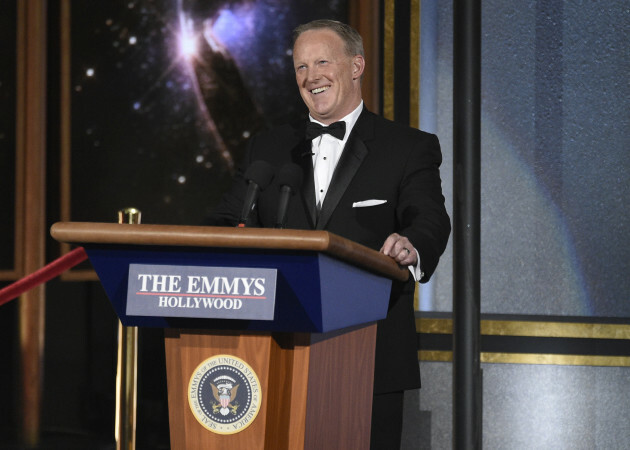 Chris Pizzello / PA Wire Chris Pizzello / PA Wire / PA Wire
IN A CONTROVERSIAL moment at Sunday night's Emmy Awards, much-derided former White House Press Secretary Sean Spicer arrived on stage to parody Melissa McCarthy's 'Spicy' persona from Saturday Night Live.
Poor Melissa looked pained – well, he was stealing her bit.
CBS CBS
The stunt was roundly panned by viewers and some of the celebrities in attendance – we say 'some', because there is plenty of evidence of Spicer living it up at the afterparties.
Just look at this photo of James Corden planting a big one on his cheek:
You may not be surprised to hear that it didn't go down too well:
Laurie Crosswell 🌞 / Twitter Laurie Crosswell 🌞 / Twitter / Twitter
Speaking on his show on Monday night, Corden addressed the picture and the reports that Spicer was "the most popular guy in the room" at the after-parties:
I just want to say, I think people are forgetting that this man was lying to the American people and should not be embraced. These Hollywood phonies, kissing up to Sean Spicer, are disgusting.
The Late Late Show with James Corden / YouTube
"Now, I know you think that is a picture of me kissing Sean Spicer, but in the spirit of Sean Spicer, no it isn't," he continued.
Anyone ever have that feeling when you get a little drunk and then wake up the next morning and think: "Oh god, who did I kiss last night?" To be fair, everyone was kissing ass last night at the Emmys, I just kissed the biggest one there.
Understandably, some people have been disappointed by this photo. In truth, I am disappointed by it as well. I've been reading a lot of harsh comments on Twitter today and I hear you loud and clear. Truly I do. So much so, I am really starting to regret that Carpool Karaoke we've taped with Steve Bannon.
This didn't do a whole lot to get him back in the good books:
Yeesh. Best pipe down for a little bit, James.
DailyEdge is on Snapchat! Tap the button below to add!