EVERY WEEKDAY MORNING, DailyEdge.ie rounds up the best of the day's celebrity dirt – from the top to the very bottom.
#99 QUESTIONS:  Yesterday afternoon, apropos of nothing (well, probably because he has a new album), Jay-Z decided to answer a load of questions on Twitter.
The man whose Twitter bio reads only 'Genius.' responded to questions about his new album as well as his views of a wide range of subjects.
You can check them all out on his Twitter page, but the most important pieces of information that we gleaned were:
1.  His favourite cereal is Captain Crunch, but he hasn't eaten it in a while.
2.  He thinks Miley Cyrus is a god.  (Em…what.)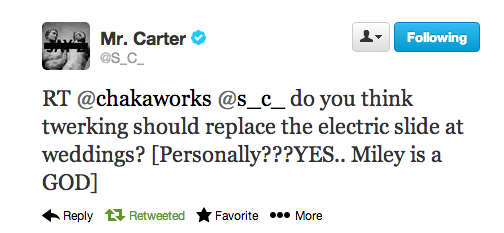 …which she was understandably pretty happy about.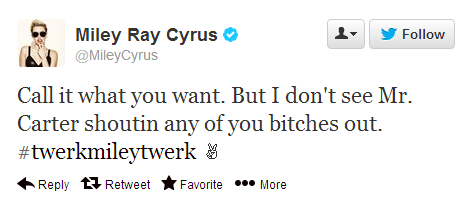 3.  And finally, that he's probably coming back to Ireland, but we have to bring the 'Irish champagne'.
But…but…Irish champagne?  THERE IS NO IRISH CHAMPAGNE!  Now what do we do?!?
#UNDER MY BEACH UMBRELLA:  Rihanna tried to have a day at the beach over the weekend in Poland, but things didn't really work out. (TMZ)
Hundreds of fans turned up to have a look at her as she attempted to sunbathe in Sopot, and in the end she had to sit under an umbrella, behind a fence.
Her friend Melissa Forde posted a video which will give you an idea of what the day was like.
In the end they just gave up with Rihanna declaring the whole attempt a 'fail'.
Instagram/Badgalriri
She wouldn't get that in Ireland.  We'd be too busy pretending not to be impressed by her.
EH…WHAT?!? Made in Chelsea's Spencer Matthews is apparently dating Stephanie Pratt, formerly of The Hills. (The Sun)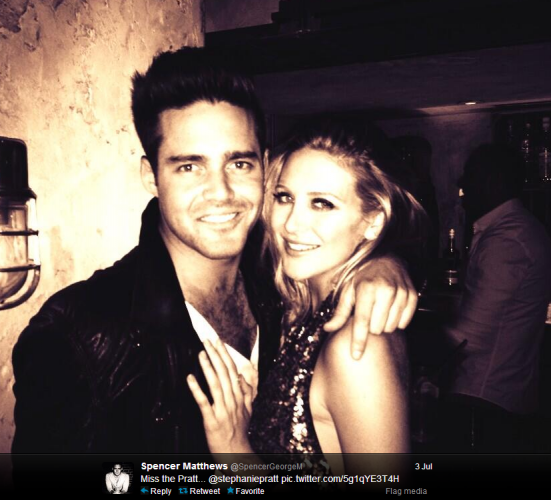 Twitter/SpencerGeorgeM
He was recently dumped by his co-star Lucy Watson, after she found out he'd cheated on her while on holidays in Zante.
It was really no surprise, as he seem entirely incapable of keeping it in his pants, but this is a new twist.
Lucy has deemed the relationship to be fake, saying:
They're obviously quite fame-hungry and desperate for attention.
How did they even meet?  How very bizarre.
And the rest of the day's celebrity dirt…
Lauryn Hill is eating delicious pulled pork in prison (TMZ)
Someone wrote 'I ♥ Rob' in the dirt on Kristen Stewart's car (Daily Mail)
Holly Willoughby licked her lips yesterday (Mirror)