NUALA. SIOBHÁN. GERRY. Martin. Evelyn. Jean.
Ireland has many worthy weather forecasters, but which one do we hold most dear?
A new poll by Dulux in today's Irish Independent reveals that the country's favourite weather forecaster is…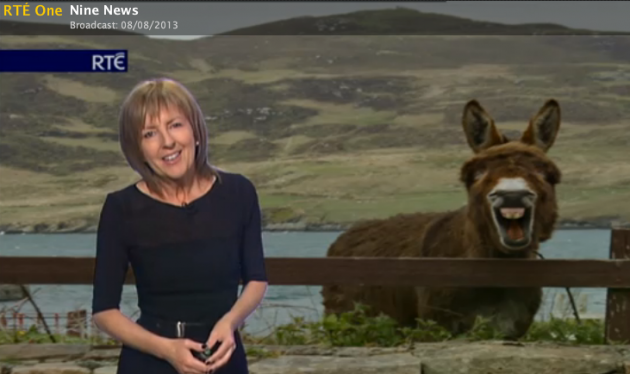 RTÉ RTÉ
The one and only Evelyn Cusack!
While we much appreciate all Evelyn has done for weather forecasting, we at DailyEdge.ie are longtime admirers of Jean Byrne and feel her great work in the area must be celebrated.
Here are five reasons why Jean Byrne is the Queen Weather Forecaster of Our Hearts.
The style. Dear god, the style
Stylish weather forecasters were basically unheard of before Jean Byrne. Fact.
From silver lamé:
To sizeable neckpieces:
Jean always looks stunning.
She doesn't give a hoot what anyone thinks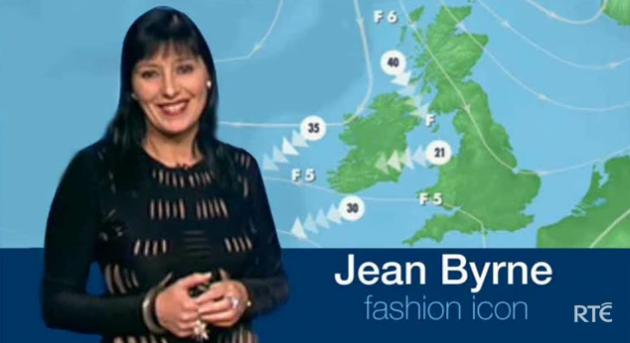 YouTube YouTube
After sporting a controversial slashed dress to present the weather in 2011, Jean was called on to explain herself:
I've always liked something that has a little bit of an edge, that's a little bit quirky. For many years on television I wore jackets nearly all the time, but I began to get a little bit bored with that.
She was feeling her look! Can she live?
Poets are inspired by her
Back in March, Irish poet Paul Durcan unveiled his steamy poem dedicated to Byrne, The Azores High.
Some choice lines include:
Men as well as women race home from work to catch Jean Byrne's weather forecast at the end of the Six One news…
Revealing to you, and you alone, the state of the cosmos: Its innermost secrets, its intimate details.
She is an Irish icon
People never stop talking about her. Ever.
And she always surprises us
Jean has no Twitter, and no online presence to speak of, adding to her mystery.
Just when we think we know her, when we are finally confident enough to predict another all black, dominatrix-inspired ensemble, she comes at us in hot pink.
Jean, never change.