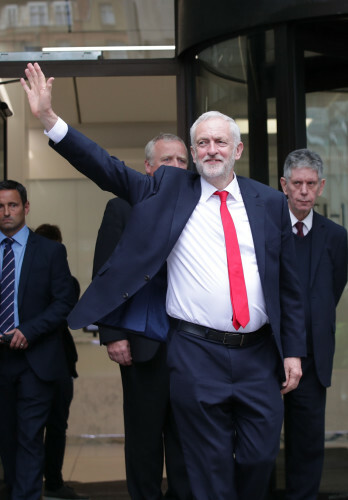 Yui Mok Yui Mok
UNDERSTANDABLY, YOUNG PEOPLE love Jeremy Corbyn.
Corbyn is the first politician in many young adults lifetime that has cared about getting rid of third level education fees, saving public healthcare, protecting school lunches for the most vulnerable and looking after normal citizens before companies that aren't paying taxes.
Since he won the leadership race in 2015, teenage girls have been expressing that they want to marry him.
However, now everyone's freaking out over his youngest son, Tommy Corbyn.
This is what he looks like:
Although he looks exactly like his dad, he's also being compared to Elijah Wood.
People on Twitter aren't being subtle about their feelings at all.
Somehow he looks more like Jeremy Corbyn than young Jeremy Corbyn did.
 It looks like Tommy Corbyn may end up stealing some of his dad's limelight.
Just please don't tell the Tories that people think he is a fox.
Tim Doble / Twitter Tim Doble / Twitter / Twitter
DailyEdge is on Snapchat! Tap the button below to add!