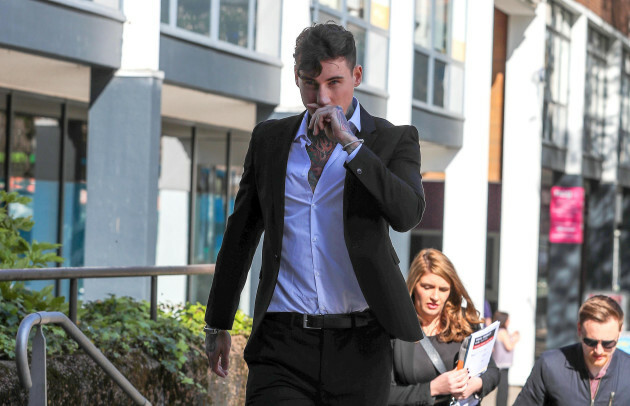 Peter Byrne / PA Images Peter Byrne / PA Images / PA Images
ON AUGUST 11TH, Jeremy McConnell was found guilty of assaulting his ex-girlfriend Stephanie Davis.
The pair of them entered the public's consciousness after appearing on Celebrity Big Brother and beginning their relationship on the show in 2016. Independent.ie reported that Davis broke down and told the court that McConnell had "completely destroyed" her life.
Jeremy laughed in court as Stephanie cried and the Judge had to order a break in proceedings.
Peter Byrne / PA Images Peter Byrne / PA Images / PA Images
McConnell, who was previously a runner up in Mr. Ireland in 2012, assaulted Davis who had been an actress in Hollyoaks for five years. She reported that the assault occurred while Jeremy was under the influence of cocaine. In court Davis claimed that McConnell had spent £180,000 on cocaine in a year.
Metro.co.uk reported that while she was on the stand, Davis recounted the night of the assault – he began by calling her a slag, then calling her fat and telling her that nobody would ever want to touch her again.
It escalated into violence and the court heard that Davis had "feared for her life" as Jeremy threw her around "like a rag doll" before putting her in a headlock and punching her several times.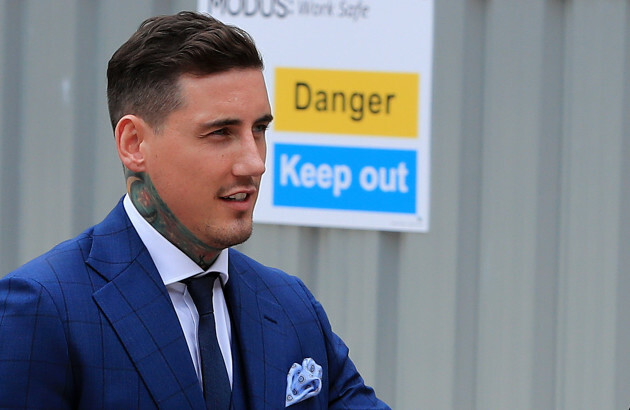 Peter Byrne / PA Images Peter Byrne / PA Images / PA Images
He left the house and she locked him out before realising that he had her phone and shortly after he climbed over her gate and ripped the handles off her patio doors to gain access to the house again and threatened to smash a bottle of wine over his own head.
After the events, Davis who was pregnant suffered a miscarriage. The pair have another child who is seven months old.
After the night of terror, McConnell was found guilty of the assault but was handed a suspended sentence.
On top of a restraining order that will not allow him to contact Davis or her family, he was told he must carry out a Building Better Relationships course and 15 days of Rehabilitation Activity requirements and 200 hours of unpaid work.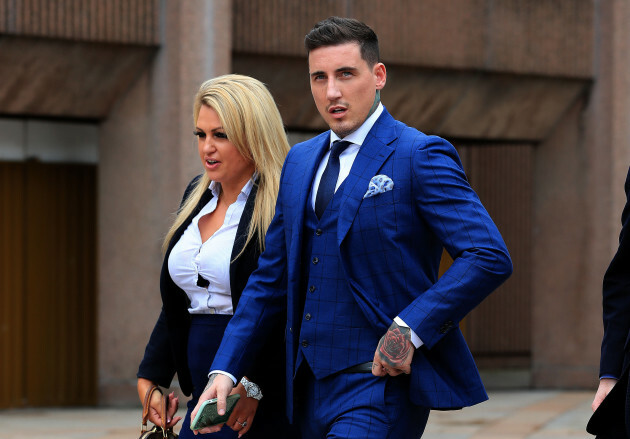 Peter Byrne / PA Images Peter Byrne / PA Images / PA Images
The guilty verdict meant nothing to McConnell, who was met by friends in Dublin airport holding a sign that said "NOT GUILTY" and another sign that joked that he would do his community service in The Wright Venue in Swords.
It appears to me that he showed no remorse as he sheepishly smiled at his friends who cheered him on as he arrived home after being found guilty of breaking a woman's nose, fracturing five of her ribs, scraping her, biting her and bruising her very badly.
After this article was posted the video was removed from Instagram but a copy of it remains on The Sun.
The Mirror also have screenshots of him 'practicing his punches' in Wrights the night that he returned home.
Now after walking away from the assault to friends who treat him as if he hadn't beaten a pregnant woman, he has returned to Instagram with his first post since the verdict.
It was a post advertising a tooth whitening kit.
It truly is very disheartening to see someone who was found guilty for a violent assault walk out with a suspended sentence to friends who meet him in the airport and cheer him on, only to pose days later in what appears to be a sponsored post by an Instagram tooth whitening brand.
While Stephanie has been laying low since the verdict and spending time with their child, McConnell has been partying with friends, advertising beauty products and is seemingly remorseless for the assault that he had denied and accused Stephanie of fabricating, despite photograph evidence of her injuries.
It is reflective of how seriously domestic violence and violence against women is taken in our society.
If you have been affected by domestic abuse and would like to talk, you can contact: 
Women's Aid: 1800 341 900
Amen (for men): 046 902 3718
DailyEdge is on Snapchat! Tap the button below to add!