OSCAR-WINNING actress Joan Fontaine, who starred in two of Alfred Hitchcock's greatest movies, has died at the age of 96.
Fontaine, the sister of fellow Oscar winner Olivia de Havilland, passed away peacefully in her sleep at her home in Carmel, California, on Sunday morning, according to a longtime friend.
The actress hit stardom – and won lasting recognition – playing a naive wife in Hitchcock's films Suspicion and Rebecca.
Fontaine's pale, soft features and frightened stare made her ideal for melodrama and she was a major star for much of the 1940s.
AP / Press Association Images Fontaine with Gary Cooper in 1942 AP / Press Association Images / Press Association Images
She appeared in more than 30 movies, including the title part in Jane Eyre alongside Orson Welles, and in Max Ophuls' historical drama Letter from an Unknown Woman. She was also in films directed by Billy Wilder and Fritz Lang. Fontaine once said:
You know, I've had a helluva life. Not just the acting part. I've flown in an international balloon race. I've piloted my own plane. I've ridden to the hounds. I've done a lot of exciting things.
Hundreds applied for the lead female role in Rebecca, based on Daphne du Maurier's gothic best-seller about haunted Maxim de Winter and the dead first wife — the title character — he obsesses over. With Laurence Olivier as Maxim, Fontaine as the unsuspecting second wife and Judith Anderson as the dastardly housekeeper Mrs. Danvers, "Rebecca" won the Academy Award for best picture and got Fontaine the first of her three Oscar nominations.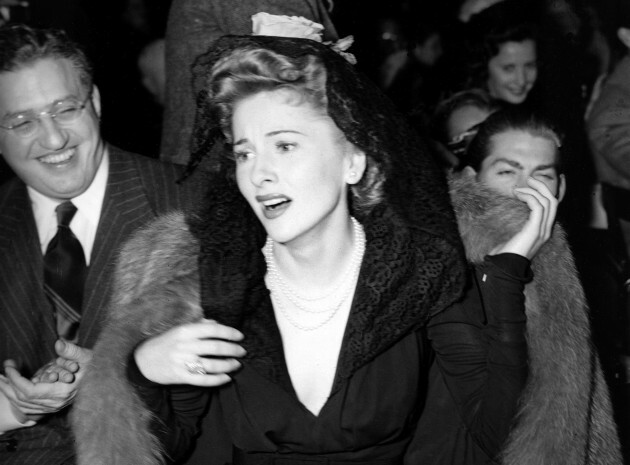 AP / Press Association Images Joan Fontaine reacts to winning her Academy Award in 1941 AP / Press Association Images / Press Association Images
Hitchcock's Suspicion, released in 1941, and featuring Fontaine as the timid woman whose husband (Cary Grant) may or may not be a killer, brought her a best actress Oscar and dramatized one of Hollywood's legendary feuds, between Fontaine and de Havilland, a losing nominee for Hold Back the Dawn.
Here she is in Rebecca:
NelsonandRocky