LAST WEEKEND, OFFALY man Joe Troy went on a night out and documented his epic journey home on Snapchat.
When he woke up, he had gone viral.
https://www.facebook.com/james.gleeson.397/videos/10205708127302172/
Troy posted the story on Snapchat and it was later shared  on Facebook by his friend James, where it has now been viewed over 100,000 times.
In addition to going viral here in Ireland, it has also been shared by international outlets like Buzzfeed, Elite Daily and The Lad Bible. 

Buzzfeed Buzzfeed

Elite Daily Elite Daily

The Lad Bible The Lad Bible
So what exactly happened that fateful night?
Joe Troy explained to DailyEdge.ie that it all stemmed from a mix-up about who was giving him a lift.
I had said I wasn't going to the house party after the 21st party I was at. I was meant to get a lift home with a few friends but her car was full so I rang a taxi and told him I'd walk up the road to meet him. He got held up with some other fares so I told him I'd stay walking to meet him as I was getting cold.
As he made the journey home, he decided to document the whole thing on Snapchat.
So I had a few drinks on board and just decided to mess around on Snapchat, which Id often do and instead of going through all my friends to send individually, I just storied it as I went along messing.
The next day, his friend decided to post it on Facebook and send it to Joe.ie. "It just snowballed from there," he told us. "It's crazy how much attention it has gotten and how far it has gone and across so many platforms. I mean if I tried to make one and get it to go viral it wouldn't happen."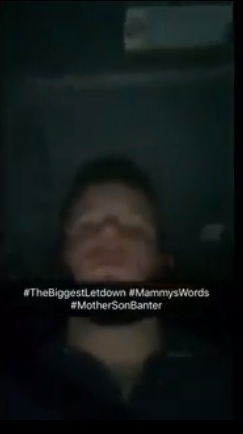 Joe's night ended with his Mam coming to pick him up, so what does she think of his viral success?
Ah yeah, Mammy. She can't believe it either. But with a son like me she's always prepared for the unpredictable. She had a good laugh at it too. We have a good, fun relationship.
Oh Mammy.
DailyEdge is on Snapchat! Tap the button below to add!