EVERY WEEKDAY MORNING, the Daily Edge rounds up the best of the day's celebrity dirt – from the top to the very bottom. Here's The Dredge.
#I BELIEB IN A THING CALLED LOVE Justin Bieber is totally not giving up on his relationship with Selena Gomez you guys.
According to "sources very familiar with the situation" (ah here!) The Biebs wants to get back together with The Gomze, and he thinks there's a good chance they'll kiss and make up (TMZ).
But, but what about Gomez posting pictures of herself on Twitter and Facebook out with another guy? (Perez Hilton)
All together now: "I belieb in a thing called looooooove…"
#ZIP UP YOUR MICKEY Twink has revealed the shock she felt when she found out that her then-husband David Agnew had a secret love child.
She has a memoir coming out this week called "Unzipped" (presumably a nod to THAT phone call – NSFW by the way) in which she details finding out in 1993 that Agnew had a teenage daughter older than the couple's own two children (Irish Independent).
You, and your impeccable timing – Photocall Ireland
#COUGAR TOWN Demi Moore (who just turned 50 yesterday) has been named the World's Most Coveted Cougar by the dating site CougarLife.com
Her estranged husband Ashton Kutcher might be shacked up with 29-year-old Mila Kunis, but at least Demi has a pair of custom made animal print Christian Louboutins created specially by CougarLife.com for her birthday. How delighted she must be. (Radar Online)
Seriously though, if we look like this when we're 50, we'll be pretty happy: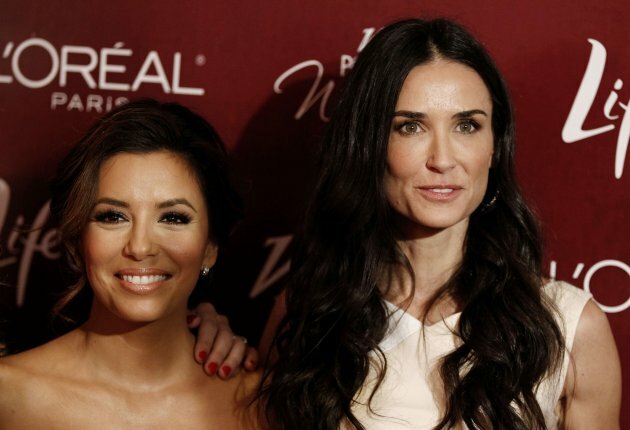 There's Demi with gal pal Eva Longoria. Ok, so Demi is 49 in this picture, but you get the idea – AP Photo/Matt Sayles
And the rest of the day's dirt:
Tulisa off the X-Factor has been sent a warning letter about breaking the UK's 2006 Health Act after it emerged that she smokes backstage at the show (Irish Sun)
Meanwhile X-Factor bosses have egg on their faces after trying to pull a fast one by claiming One Direction were live on the show at the weekend. One Direction were actually in LA. The pups (Irish Daily Mirror)
Brian McFadden isn't well. What's up Bri Bri?
Apparently Corrie and I'm a Celeb star Helen Flanagan "stinks of fake tan", according to boxer David Haye. Fake tan smells like biscuits. Everyone knows that (Daily Mail)
Justin Bieber and Taylor Swift shared the spoils at last nights MTV EMAs, taking home three awards each. Swift was there to perform, but The Biebs was not. He was at home, weeping (MTV)
For more, follow @dailyedge on Twitter and like The Daily Edge on Facebook.