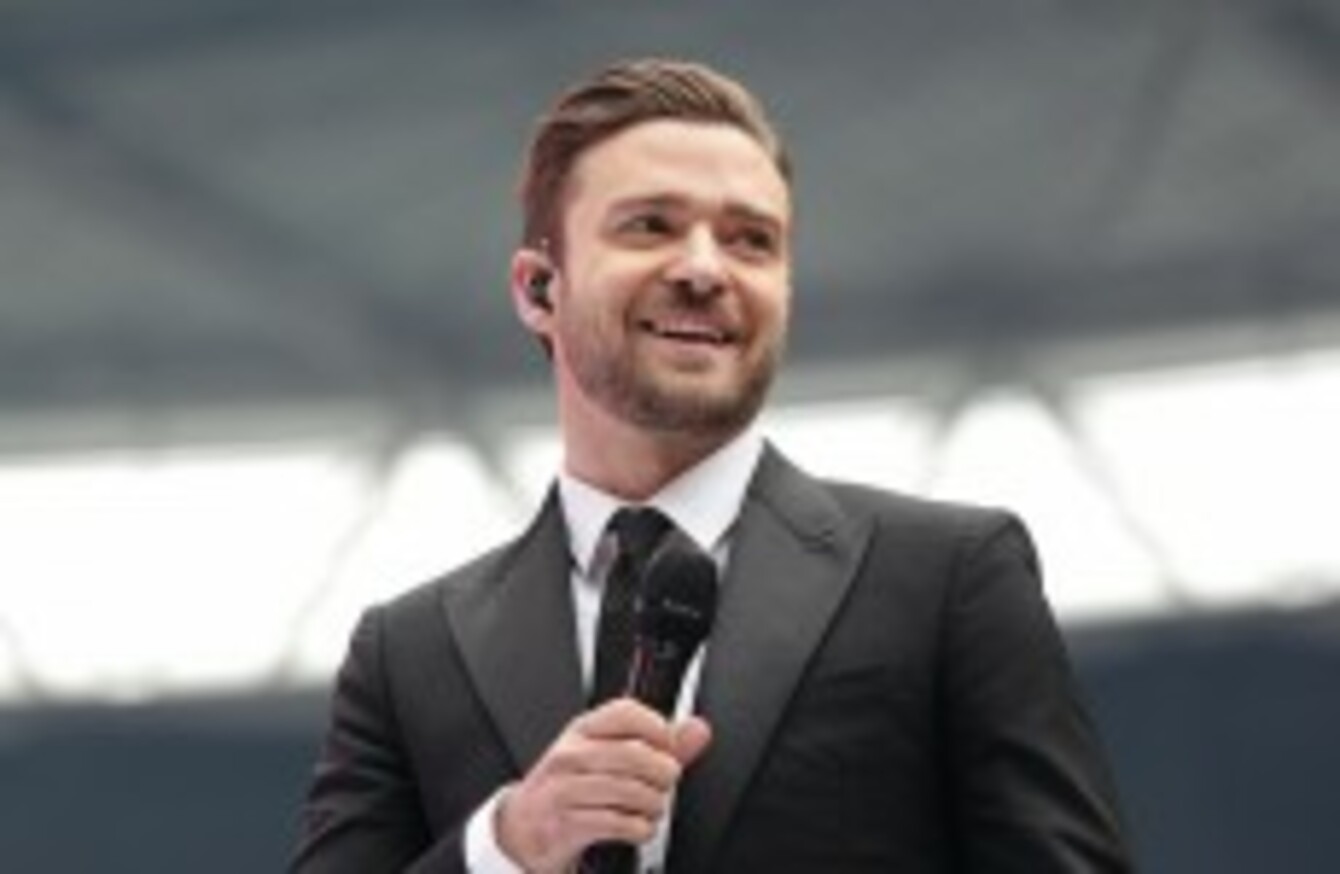 Image: Yui Mok/PA Wire/Press Association Images
Image: Yui Mok/PA Wire/Press Association Images
EVERY WEEKDAY MORNING, DailyEdge.ie rounds up the best of the day's celebrity dirt – from the top to the very bottom.
#TROUSERSNAKE: Justin Timberlake played to 40,000 people last night in the Phoenix Park, and by all accounts he was outstanding.
Except for one thing…his attempt at an Irish accent. (Twitter)
According to Twitter Mr. JT put on a phenomenal show, but we can add him to the list of American performers who've tried to do an Irish accent and failed.
That's…eh…pretty much everyone who has ever come to Ireland.  WILL THEY NEVER LEARN?
In other Trousersnakey news, Jessica Biel watched his performance last night from a sound tower.
Twitter/Spin1038
Onlookers were shocked to see she was wearing not only a jacket, but a black one at that!  In this heat?  Doesn't she know we're currently experiencing tropical climes?
#UNIBOOB: Caroline Flack has been talking about the trauma of growing up with only one boob. (The Sun)
Dominic Lipinski/PA Wire/Press Association Images
Apparently she had to stuff half her bra with tissue, and was understandably very stressed about it.
It wasn't until one day when it just got too lopsided that I ran down to the kitchen where my mum was making carbonara and shouted out in despair, 'I've only got one boob'.  Mum sat me down and told me it was totally normal.  Weirdly, within a couple of months, I grew a second boob and all was ok.
Poor, teenage Caroline.  All's well that ends well, eh?
#F**K BILL CLINTON: Justin Bieber pees in a restaurant mop bucket and inexplicably shouts 'F**K BILL CLINTON' in a video that has just surfaced online. (TMZ)
Filmed earlier this year, the video shows the youngster taking care of business in a pair of ludicrous trousers, (not a first), as his crew shout about 'Swagger'.
It's all a little embarrassing to be honest.

YouTube/TMZ
Fortunately, Justin and Bill have now talked out their differences.
We're sure Bill Clinton has been living for the day when he was associated with a hashtag saying, #greatguy.
#ART-Z: Jay-Z performed one song over and over again in an art museum in New York yesterday.  For six hours. (Buzzfeed)
It's art y'all.
It's also for a music video for Picasso Baby, the lead track from his new album.
Apparently a new group of fans were brought in each hour and serenaded by Hova, one of whom was actor Alan Cumming.
The lucky duck.
In other Jay-Z related news, his album is doing very well indeed in sales terms, so to celebrate Beyonce posted this on Facebook.
Look at him!  Look at his little face!  It's too much!
And the rest of the day's celebrity dirt…
Charlie Sheen got in his private jet and flew himself to Scotland to find the Loch Ness monster. (Mirror)
A naked man crowdsurfed at a Kings of Leon concert. (Sounds traumatic for all involved, to be honest.) (The Sun)
Khloe Kardashian has apparently kicked her husband out of the house after cheating revelations. (Radar Online)