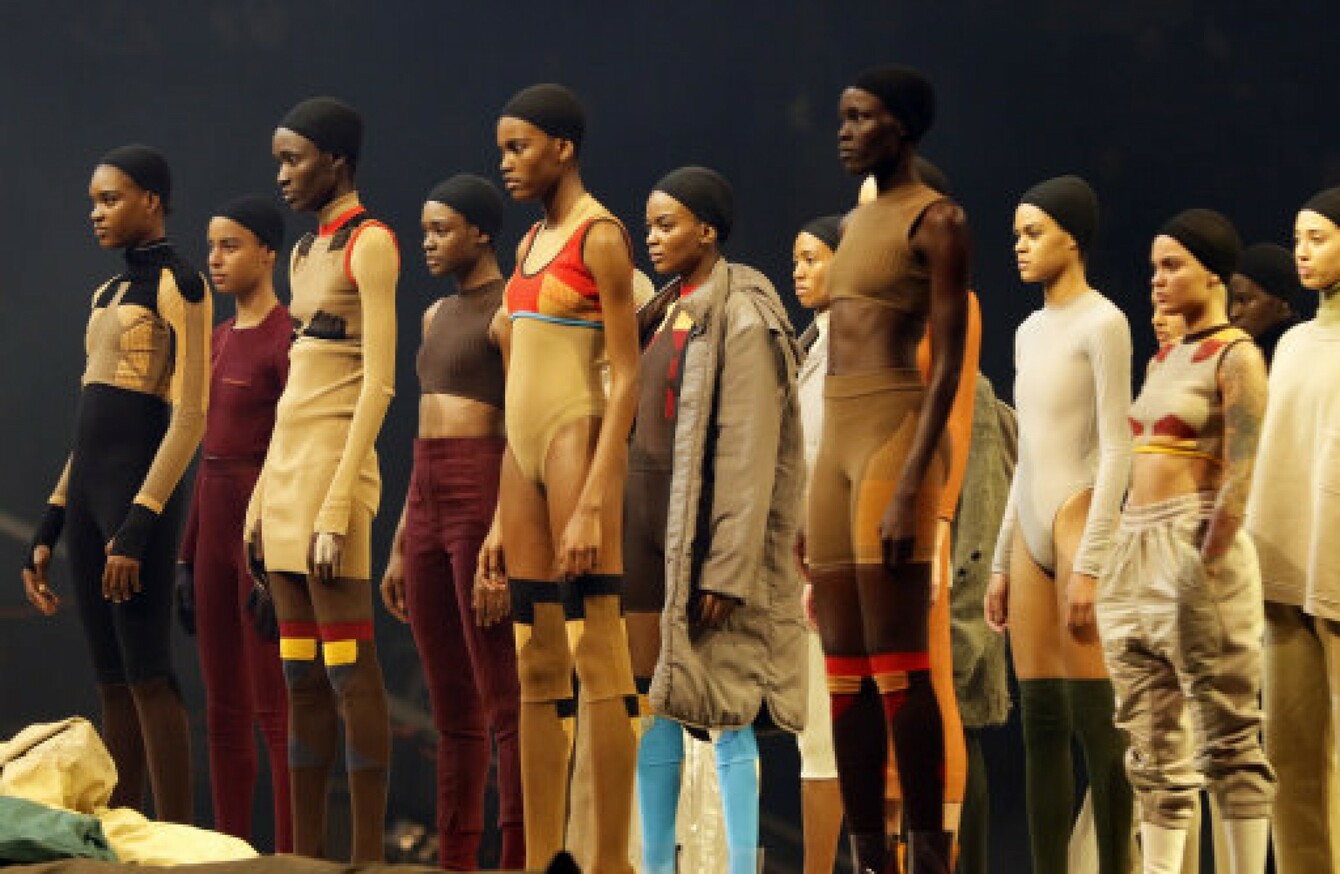 KANYE WEST UNVEILED his latest clothing collection and new album, The Life of Pablo, last night.
There was much hysteria, with the whole occasion in New York's Madison Square Garden streamed online, as well as a viewing party which took place in Cineworld in Dublin.
1. Lamar Odom showed up
In his first appearance since his hospitalisation, Khloe Kardashian's ex husband sat between Khloe and Kendall to watch the show.
2. Naomi Campbell appeared and everyone was like wtf
She was evidently the High Bitch In Charge and was doing whatever the hell she wanted.
3. He wore this shirt
WTF, man? It was in honour of his mother, Donda West, and Kim's father, Rob Kardashian.
The audience could get their own for $40.
4. The models stood still for hours and almost collapsed
According to the Metro, they had been instructed not to smile or look at the cameras. If they wanted to sit they couldn't do it at the same time.
Ah Jaysus.
5. They had to be given air flow before it started
6. Kanye told the audience that he loves them like Kanye loves Kanye
Things are going deep.
7. He announced a video game dedicated to his mum, in which she is ascending into heaven with wings
Kanye announced the trailer for the video game Only One, which was played during the album reveal.
Click here to see the full thing.
8. FRANK OCEAN IS ALIVE
And he features on one of Kanye's new tracks, Wolves.
9. His dissed Taylor Swift
Oh no he DID-ENT. Kanye raps in Famous:
I feel like me and Taylor might still have sex. Why? I made that bitch famous, God Damn, I made that bitch famous.
Ouch.
Taylor's rep said:
Kanye did not call for approval, but to ask Taylor to release his single "Famous" on her Twitter account. She declined and cautioned him about releasing a song with such a strong misogynistic message. Taylor was never made aware of the actual lyric, "I made that bitch famous."
Austin Swift, Tay's brother posted an Instagram on himself throwing his Yeezy's in the bin. Sh*t is going DOWN.
10. Rob Kardashian got a shout out
One of Kanye's lyrics goes
Blac Chyna fuckin' Rob, help him with the weight.
As we all know, Blac Chyna is Rob's new girlfriend. Bit harsh, Kanye.
11. There was a striking colour theme among the Kardashians
DailyEdge is on Snapchat! Tap the button below to add!