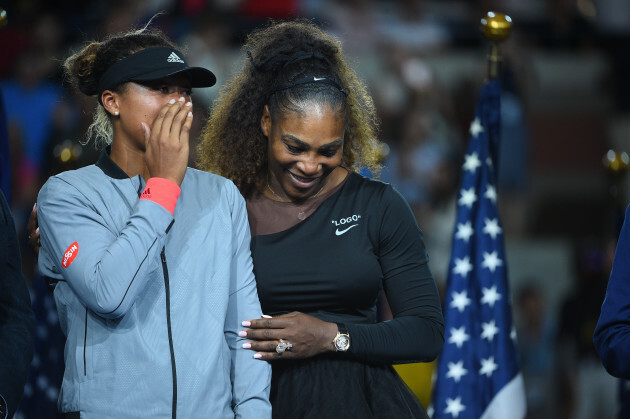 Dubreuil Corinne / ABACA Dubreuil Corinne / ABACA / ABACA
AS THIS YEAR'S US Open came to a close, it's safe to say that Serena Williams was the most talked about athlete in the entire competition. 
From the beginning of the competition, the 36-year-old was making headlines for wearing tutus while playing tennis after the president of the French Open criticised the bodysuit that she regularly wears to matches in order to decrease her chances of developing bloot clots.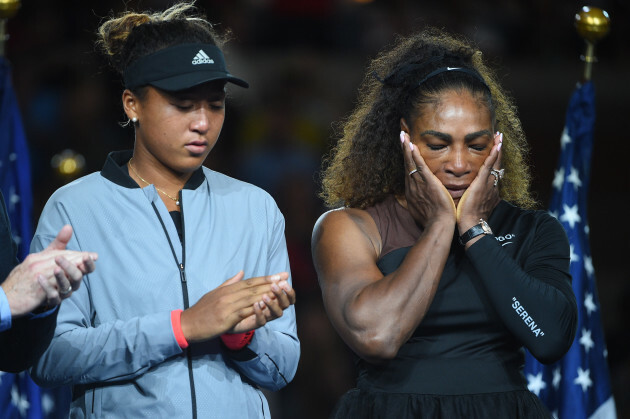 Dubreuil Corinne / ABACA Dubreuil Corinne / ABACA / ABACA
When Serena lost in the final to 20-year-old Naomi Osaka, she remained the topic of headlines, after she called the umpire a 'thief' for 'attacking her character' and stealing a point from her. Williams spoke out about the incident after the match, and complained that points had never been deducted from male tennis players for similar offences.
I've seen other men call other umpires several things, and I'm here fighting for women's rights and women's equality and all kinds of stuff and for me to say 'thief' and for him to take a game? It made me feel like it was a sexist remark.
Just when we all thought the weekend's drama was about to die down, an Australian cartoonist shared an illustration he produced for The Herald Sun.
For some reason, artist Mark Knight was proud to claim ownership of this image, which depicts Serena Williams as overweight and with exaggerated lips, petulantly jumping on a tennis racket.
What makes it worse, is that Naomi Osaka, who is Haitian-Japanese was depicted as a white woman with blonde hair, which many people believed was to perpetuate the idea that Serena Williams is not one of the greatest athletes of the century, but simply an 'angry black woman'. 
WooooW. the stereotypes jumped OUT!
you even turned osaka into a white blonde woman to push your 'angry black woman agenda' https://t.co/LF6PI0ufQI

— vic sanusi (@victoriasanusi) September 10, 2018
Immediately, the artist was called out on his work. 
One woman asked "Where was this cartoon for all the men who have broken their rackets over the years?" Knight responded with a cartoon of Nick Kyrgios, an Australian tennis player of Greek and Malaysian heritage. 
Well Julie here's a cartoon I drew a few days before when Australian male tennis player Kyrgios at the US Open was behaving badly. Don't bring gender into it when it's all about behaviour. I'll accept your apology in writing😁 pic.twitter.com/NLV0AjPGsY

— Mark Knight (@Knightcartoons) September 10, 2018
Mark Knight was really convinced he had made a valid point there, but Twitter pointed out that this was probably the worst reply he could have possibly posted.
"Well Julie I've been racist before so it's ok."

— (H)erc (@iHerc) September 10, 2018
Many people jumped to Serena's defence, including Kathy Griffin and J.K. Rowling.
Kathy did not hold back.
Hey @Knightcartoons just change your name to KKK Cartoons

Racist piece of shit! https://t.co/ODfeEe6D0g

— Kathy Griffin (@kathygriffin) September 10, 2018
Impressively racist cartoon.

1) Williams as "hysterical black woman"
2) Williams with classic racist "big lips"
3) Osaka, Japanese of Haitian heritage, made white (as "victim of black anger").

How much thought went into this? Or was it just purely from the gut? https://t.co/gUG9jFvmrF

— Cas Mudde ✊ (@CasMudde) September 10, 2018
Look how big her lips and nose are. We see how y'all see us. You guys ain't slick. https://t.co/uY508xIZmd

— VanLathan (@VanLathan) September 10, 2018
THIS "toon" as you call it is SEXIST and OH SO STEREOTYPICAL RACIST--look at the hair, the lips, the hefty black woman being angry. You, sir are part of the problem. #SerenaWilliams https://t.co/VtkksYFsaS

— Sophia A. Nelson (@IAmSophiaNelson) September 10, 2018
Channel 4 reporter Symeon Brown really nailed it with his analysis. 
This small boy doesn't realise he's drawn a cartoon that will be studied and shown for generations after Serena retires for encapsulating the hostile misogynoir she endured from an insecure white gaze uncomfortable with her greatness. Even his erasure of Naomi Osaka is perfect. https://t.co/xgDFrURx3B

— SymeonBrown (@symeonbrown) September 10, 2018
DailyEdge is on Instagram!